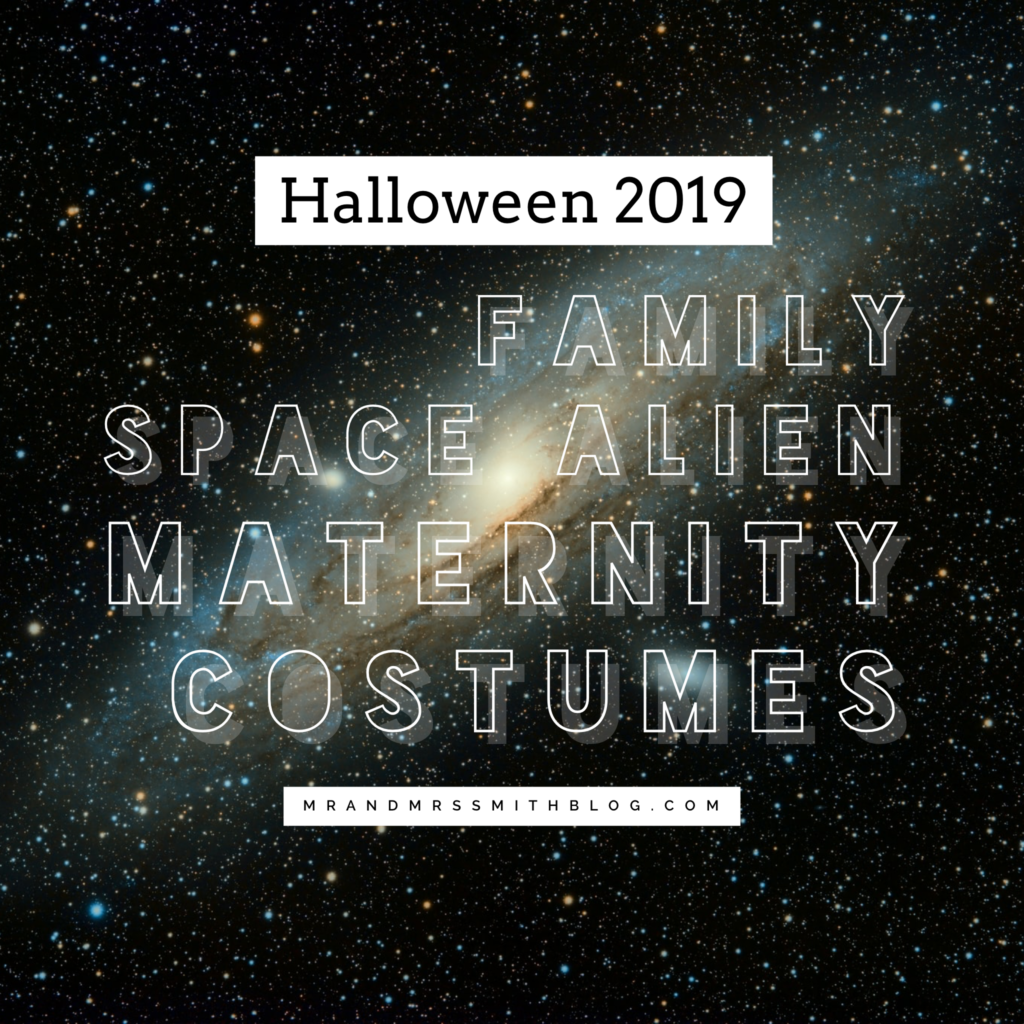 I don't think it's much of a secret how much we love dressing up for Halloween. Apparently, Riggs wasn't that into it until he realized that he got candy for his efforts – that changed his attitude really FAST!
I really wanted to do a family theme for our annual Trunk or Treat party and told him he could dress up as whatever he wanted to on the actual night of Halloween. He was so okay with that!
Ryker was a great sport and was actually the one who picked our final costumes this year.
I have a a huge list of ideas that I keep on the notes section of my phone whenever I think of a costume theme or idea and so I pulled 3 main ideas from there that I felt I could execute while being almost 8 months pregnant. I sat Ryker down and told him my three picks and some ideas of what it would look like. I am pretty sure the antennas sold him! Then all it took was some shopping around for the right look and clothes that would fit my growing bump!
Space Aliens
Space Alien Costume Sources:
Space Dad: Pants, Hoodie + Glasses
Space Mom: Leotard, Skirt, Leggings + Wig – Shoes + Belt I already owned
Space Kids: Gloves + Antennas (spray painted metallic silver – similar antennas here),
We made the boys space costumes by duck tapping over an old pair of pajamas. Ryker's turned out great because we did the DIY while he was wearing the jammies and we were able to stretch the fabric. The fabric really shrinks once the tape goes on. We didn't do this with Riggs' costume and ended up making it into a jacket so he could move around easier.
Past Family Costumes:
2018: The Greatest Showman
2018: Babywearing Black Widow Spider
2016: Lion King
2015: Basketball Player + Referee Maternity
2015: Sugar Skull Maternity
2015: Scarecrow Maternity
2014: Deer + Hunter
2013: Disney Pixar – UP!
If Halloween gives you some motivation to throw a fun party or get creative with some yummy kid approved treats check out these posts:
No Stress Toddler Halloween Party
Family Movie Night: Monster Pizza
I hope y'all have a wonderful Halloween + can't wait to see everyone's costumes!