I left everyone hanging in Instagram land about the reno on our tiny entry/mudroom. Honestly, most people forgot about the little project when I took a hiatus from social media but I do these projects for me and my family more than anyone else. They push me creatively and I love sharing. If you love it along the way then awesome so glad to have you!
Just for a recap here is what we were working with. The entry was right off the garage and hit directly into the laundry room which I loved. It was a narrow walkway and I realized quickly that every time we came in the door, all the tiny people were pushing their way through.
There was also a coat closet, and after living in the house for 9 months we realized we would never use it. Out it went!
I need a place to store shoes, gear for soccer, swim and basketball and a place to hang my purse when I walked in the door. So we came up with this little design and I love it!
We added a vertical shiplap, bench and storage, then I added a rug from one of my favorite designers, a few pillows, and hooks.
I am still looking for better shoe bins that don't look run down after some hard use but here is where we landed. I learned that the upper storage although pretty, is really difficult for 5'2 me to use. I think in the future I would tuck away a stool in the cubby or need to store more seasonal items that I wouldn't need to access more frequently.
It's a functional space made beautiful that really lights me up.
What We Did:
-knocked out the existing coat closet
-extended the opening by 8″
– added extra flooring to fill in where the closet was
-installed vertical shiplap on the back wall
-had the shelves and bench built out
-added missing baseboard pieces and caulked
-PAINTED!
-threw in some fun textiles to make it a little cozy when you walk in
Sources:
Hooks
Runner
Beige Pillow
Green Pillow
Wall Art
Bins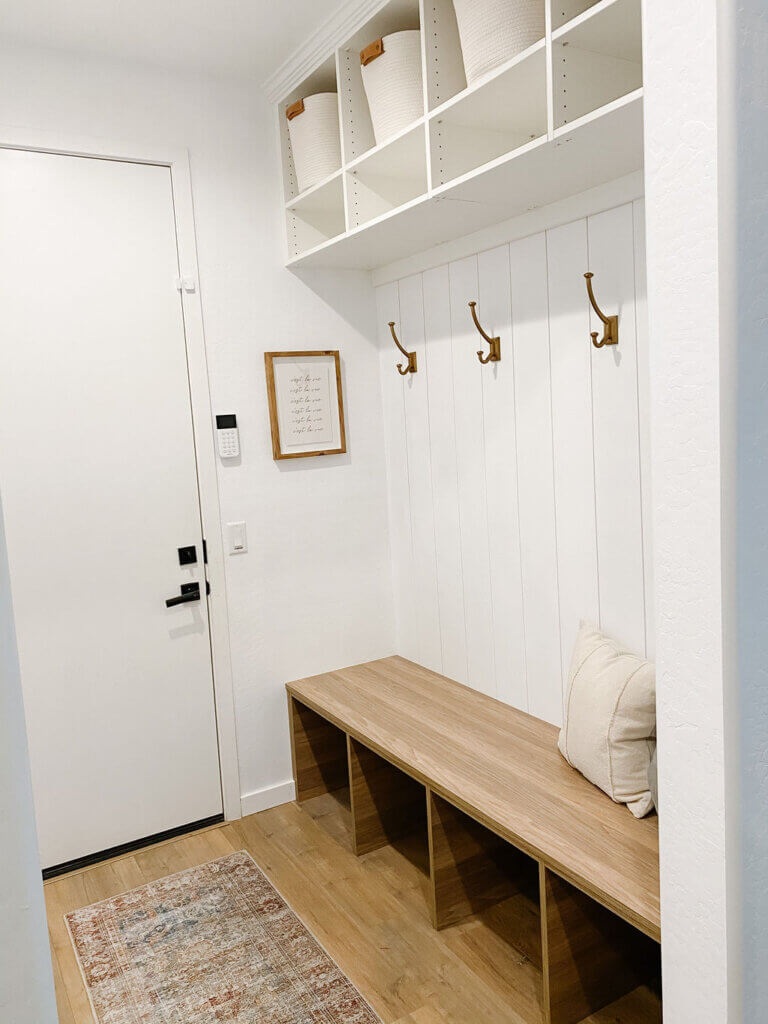 ^ Here is a look above of it cleaned up for you vs daily use. ^