BIG DISCLAIMER: All these photos were taken December 2019 – yes LAST YEAR! I am not pregnant but still wanted to share these bump friendly looks with you this Christmas!
You just finished filling up on turkey and pie and the next day your December calendar fills up with events and parties for the holidays!
Last year we had 11 different events to attend including a wedding AND… I was 9 months pregnant! *Spoiler Alert* we didn't make it to all of them.
Now not all of these were big parties that required a fancy look – there were cookie exchanges, hot chocolate bar evenings and family Christmas get togethers – but you get the idea. I still had a lot of places that required a little extra holiday pazazz!
I paired down a few staple maternity items with classic everyday wear to create six different looks to rock any party that lands space on your calendar! Enjoy!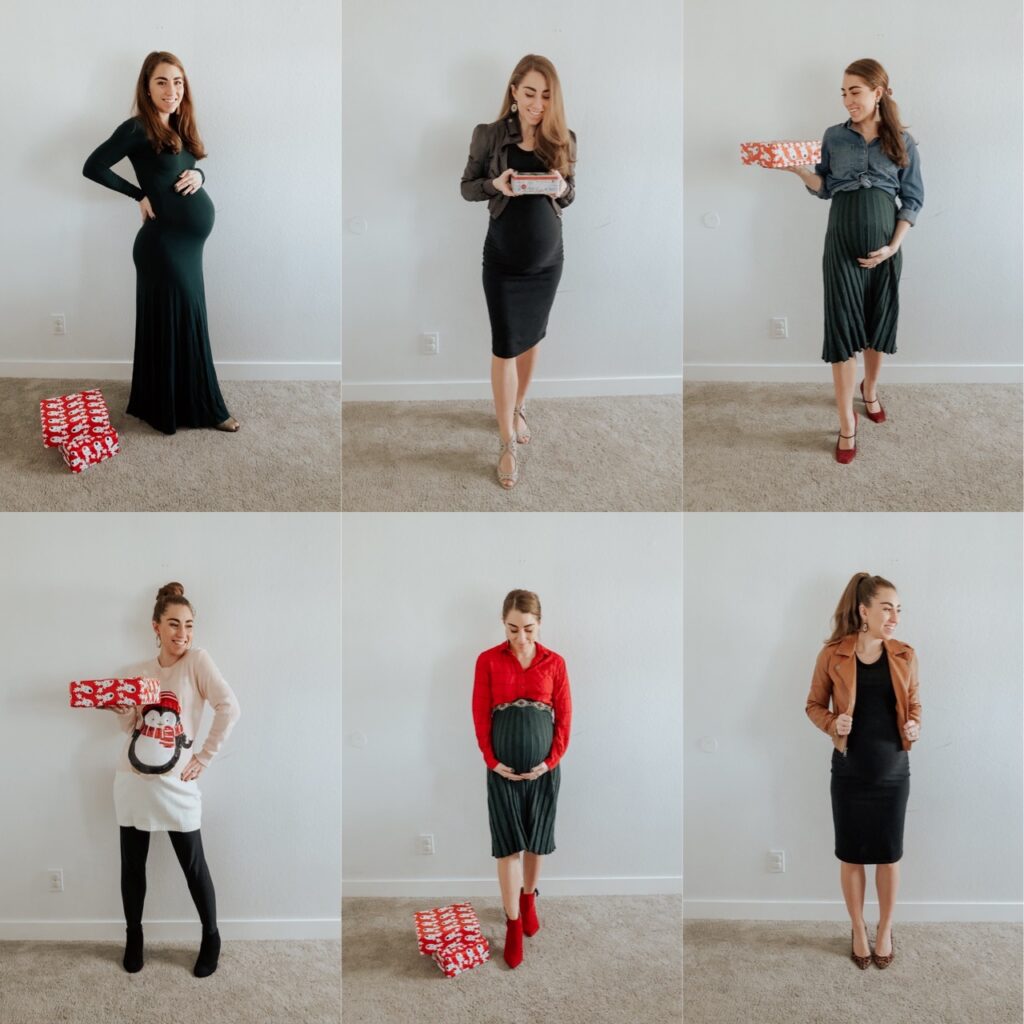 Look 1: Formal Attire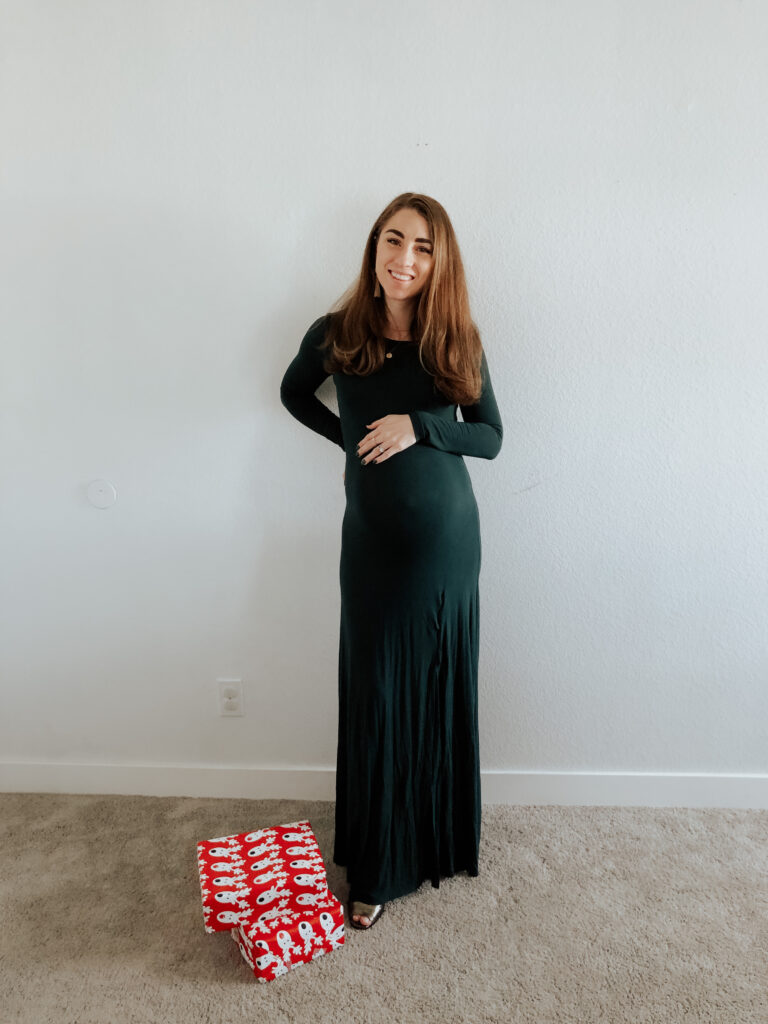 Although this dress is not maternity it rocks the bump perfectly with the comfy knit fabric. You don't have to break the bank for a formal look while pregnant. Shop your closet for dresses and pieces that can accommodate your changing body. Borrow from a friends closet or use rental companies like Rent the Runway!
Look 2: The Elevated LBD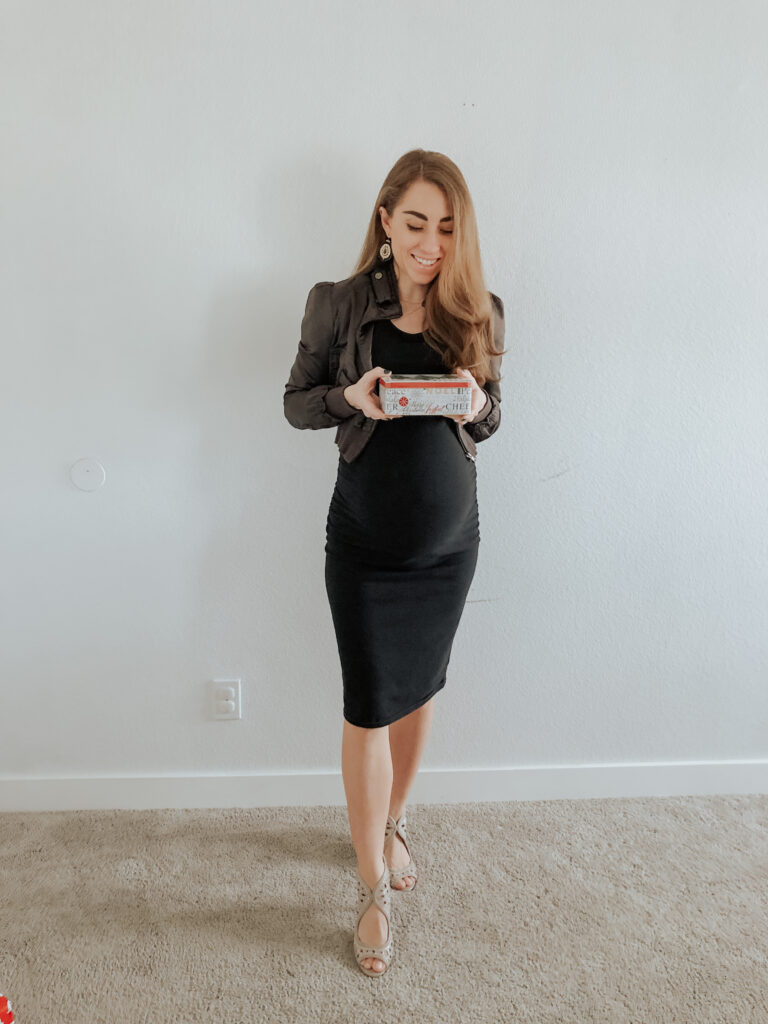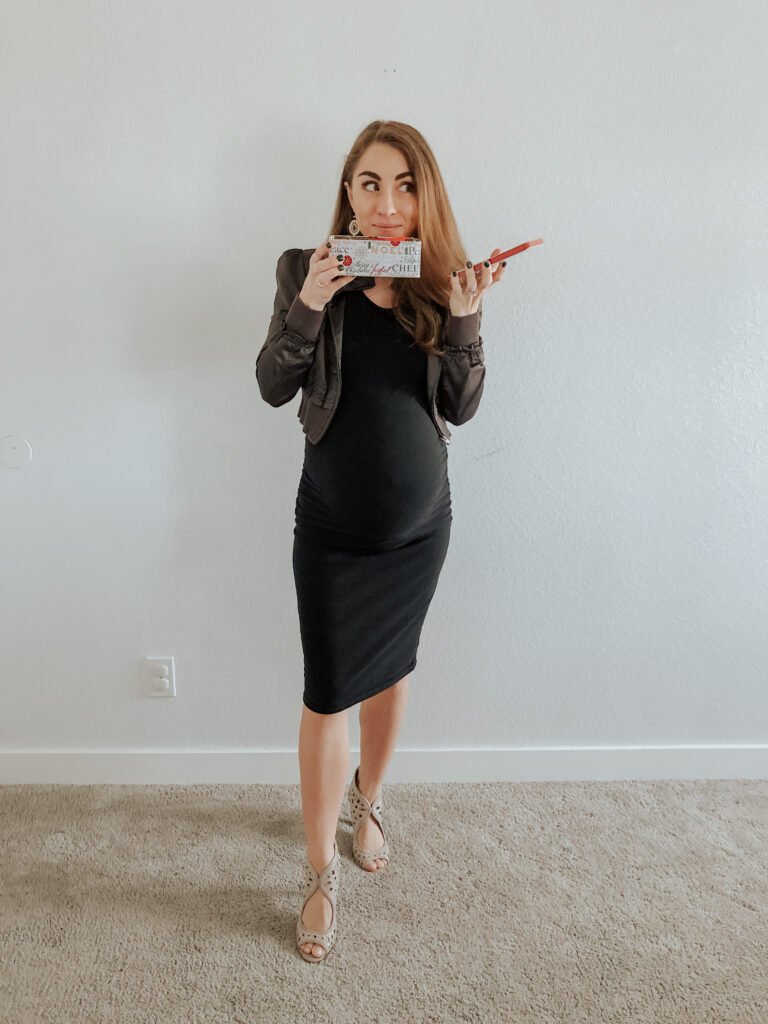 Every pregnant mama needs a black maternity dress. It is so classic and can be dressed up or down depending on your event. I wore this number all the time with my Nikes to stay comfy and hello back support but could dress it up just by changing my shoes and accessories!
I got mine at Target and love it!
Look 3: Comfy Casual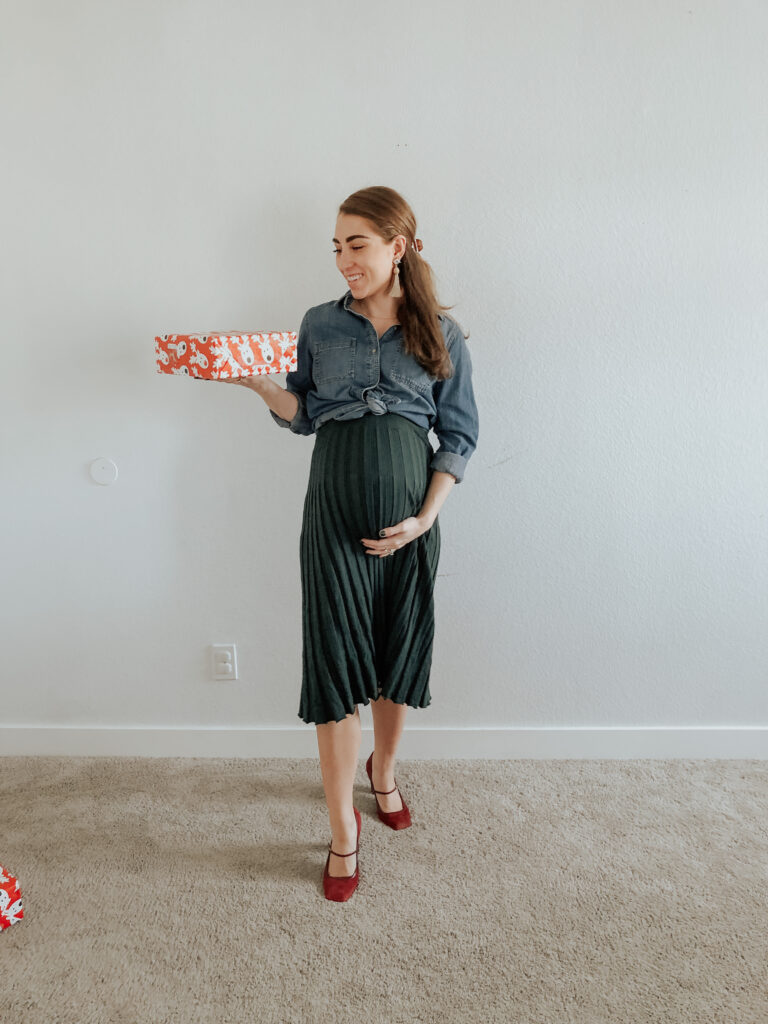 This outfit is also from every woman's true love – TARGET! I found this skirt last year and the muted olive color just spoke to me. Although it isn't maternity it was a great length to bring up over my bump. I knotted off my denim shirt to accent my bump and paired it with these cute Kate Spade velvet heels. I wore this look for our 2019 family Christmas pictures.
Look 4: The Not-So-Ugly Christmas Sweater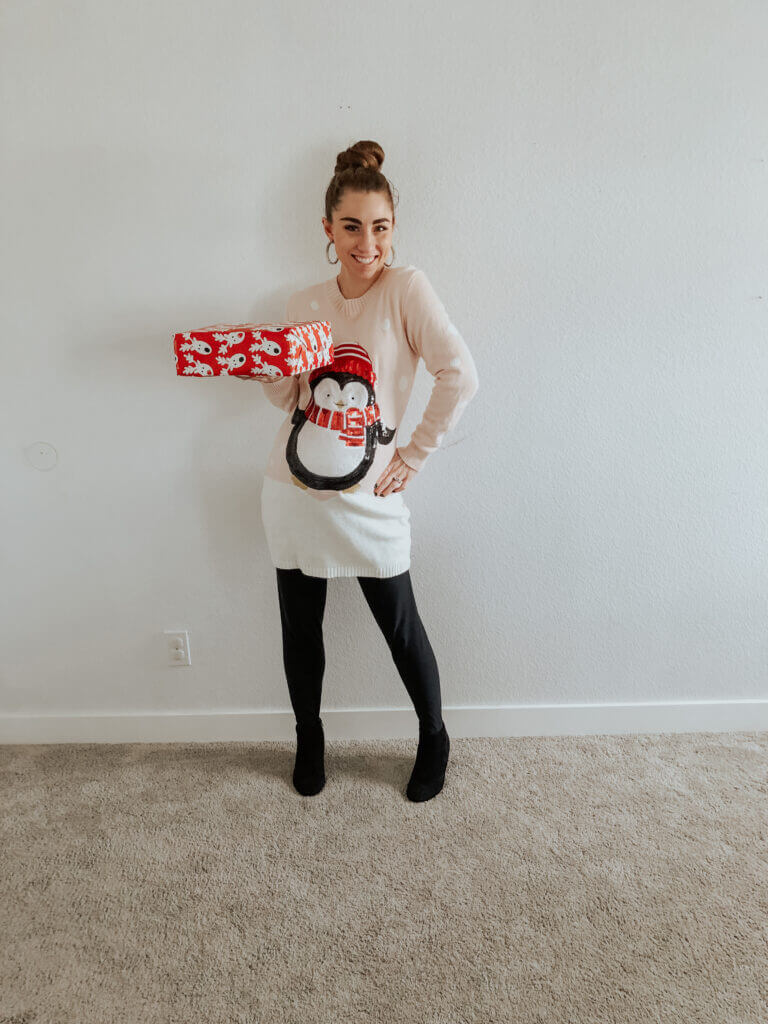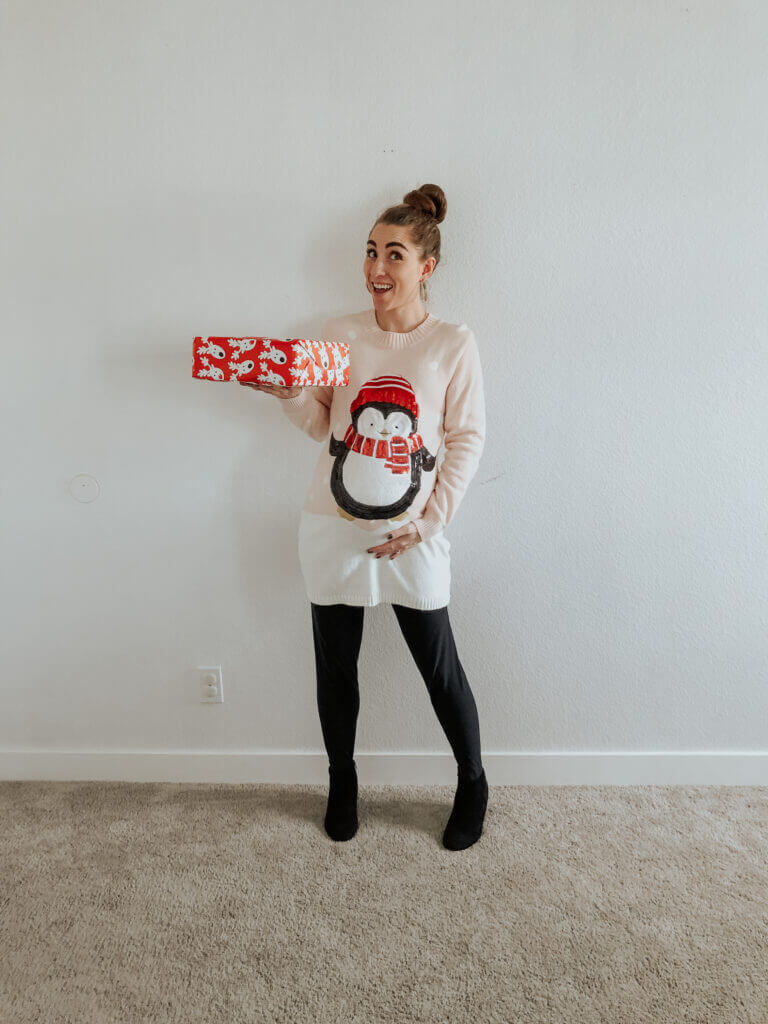 I scored this little number off Amazon several years ago. When I put it on over my bump is was falling on the short side so I paired it with my go to Beyond Yoga maternity leggings and black booties!
Also, I loved that it is a penguin because they waddle right and it just felt fitting to wear it 9 months pregnant. When people actually got the joke it was a good laugh!
Look 5: Festive Holiday Colors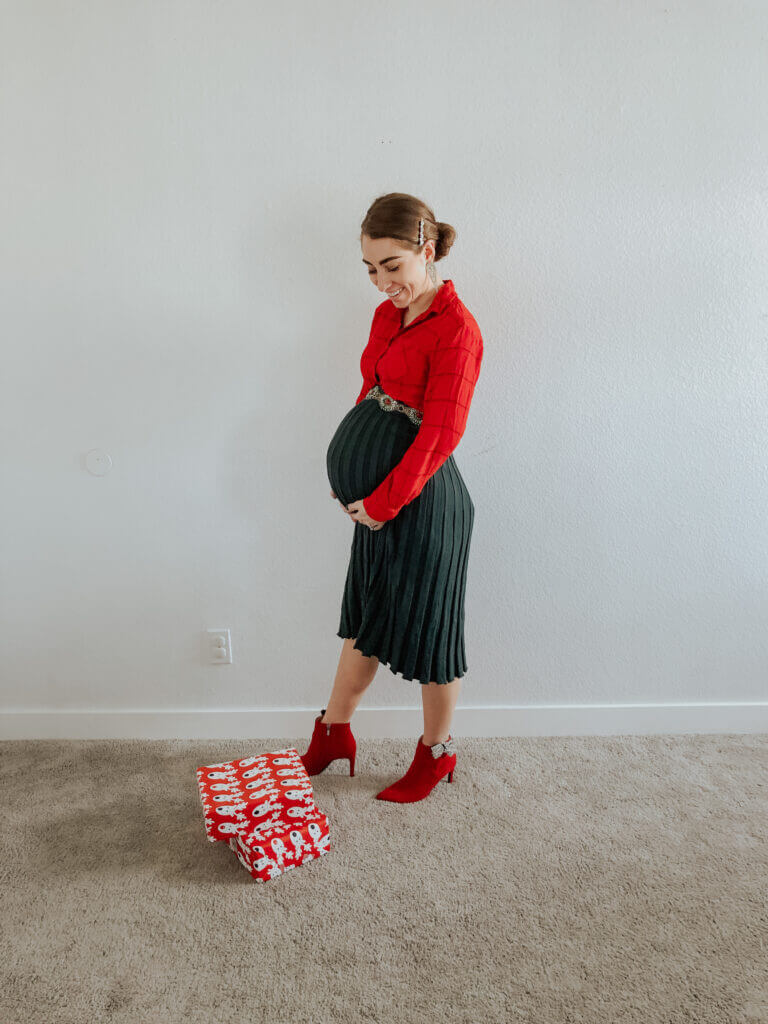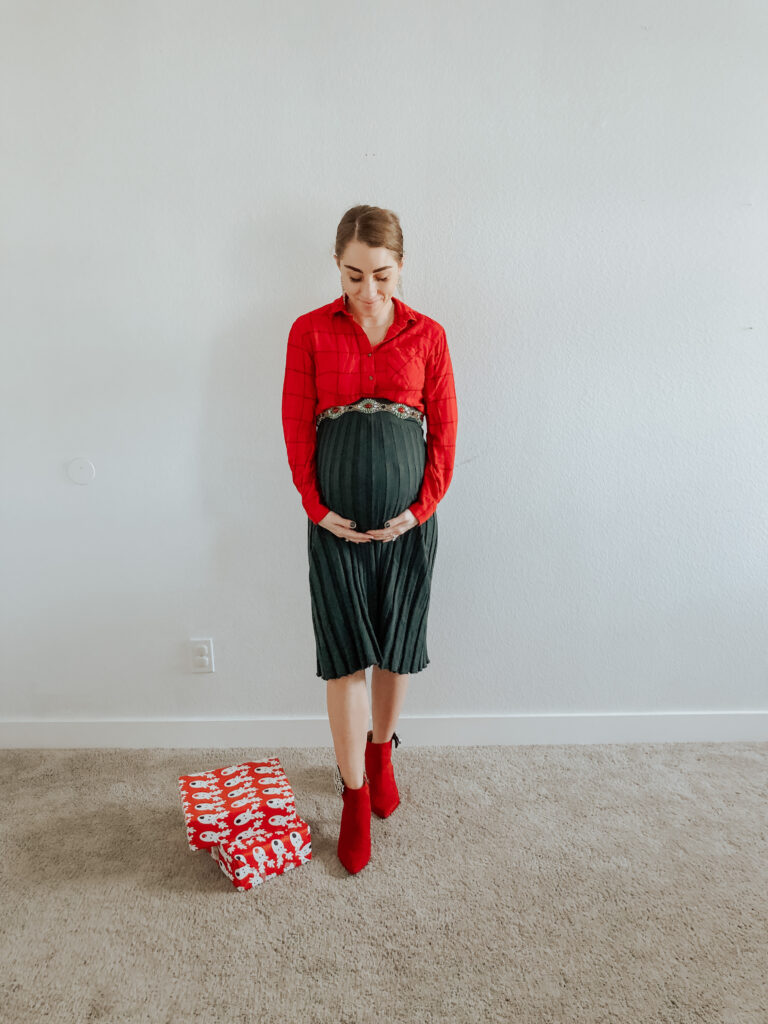 Why yes this is the same Target skirt from above! I wore this look to Mr. Smith's office party and loved adding the hints of bling. When you are this done being pregnant, you do what you can to feel glamorous! I loved adding my favorite Anthropologie belt to accent baby girl. Even though it seems like foreverrrrr you don't have that long to rock the bump so SHOW IT OFF!
Look 6: Classic With A Twist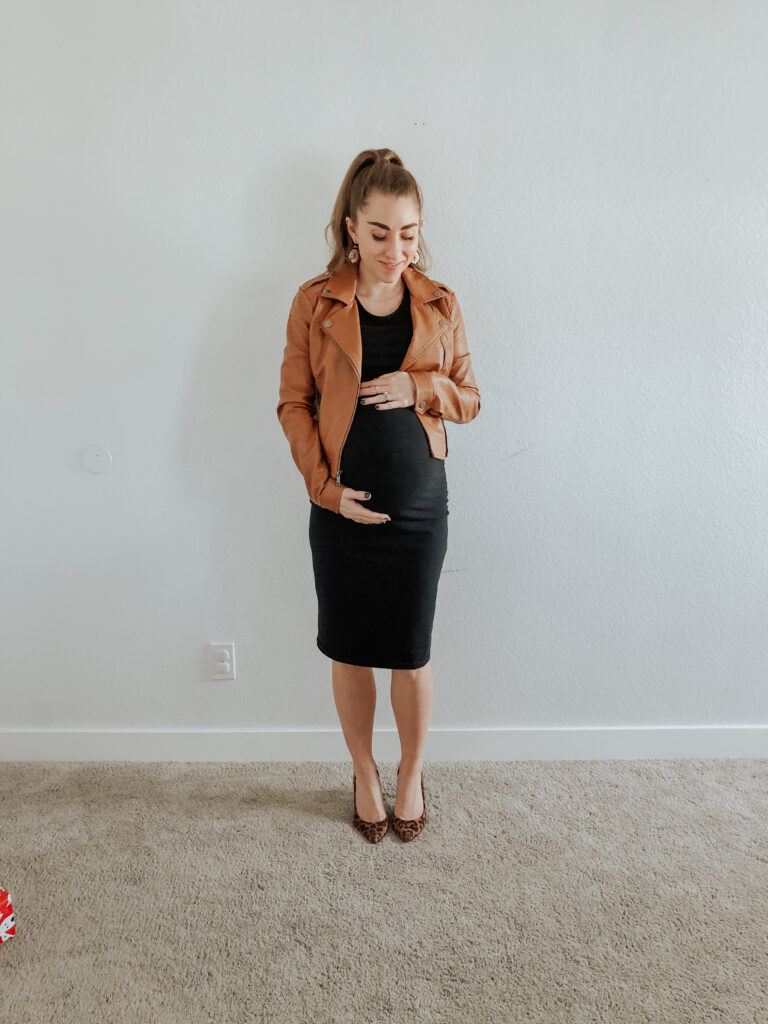 Yup, you guessed it. I had to show my favorite maternity LBD with a different twist. Black is just so classic. I actually ended up wearing this black dress to a wedding last year with a long black sweater since it was chilly. Black creates a beautiful silhouette to slim down your overall look.
I hope you enjoyed these looks and if you recreate any – tag me on Instagram @mrsktsmith so I can see and share your adorable maternity style!
Happy Holidays