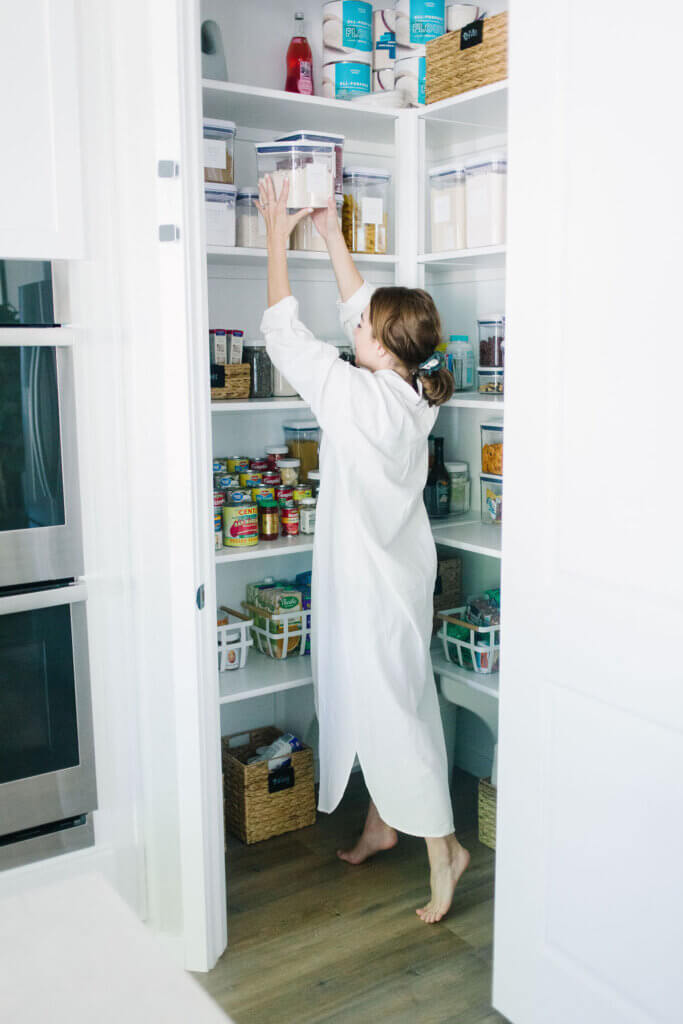 This may not be as exciting for you as it is for me – WELCOME TO MY PANTRY.
In the 9 years Cam + I have been married I have never had a pantry I could actually step foot inside. Our first year of marriage we just had 1 lonely cabinet and when we we bought our first house I used a storage closet. This to me, is PURE GOLD!
Let me walk you through the sections
The very top level houses our food storage, a bin with party + seasonal supplies, and backstock. I also keep our Bumbo and paper towels there. I like to keep things I don't access regularly up high because I definitely need a ladder or step stool to reach them.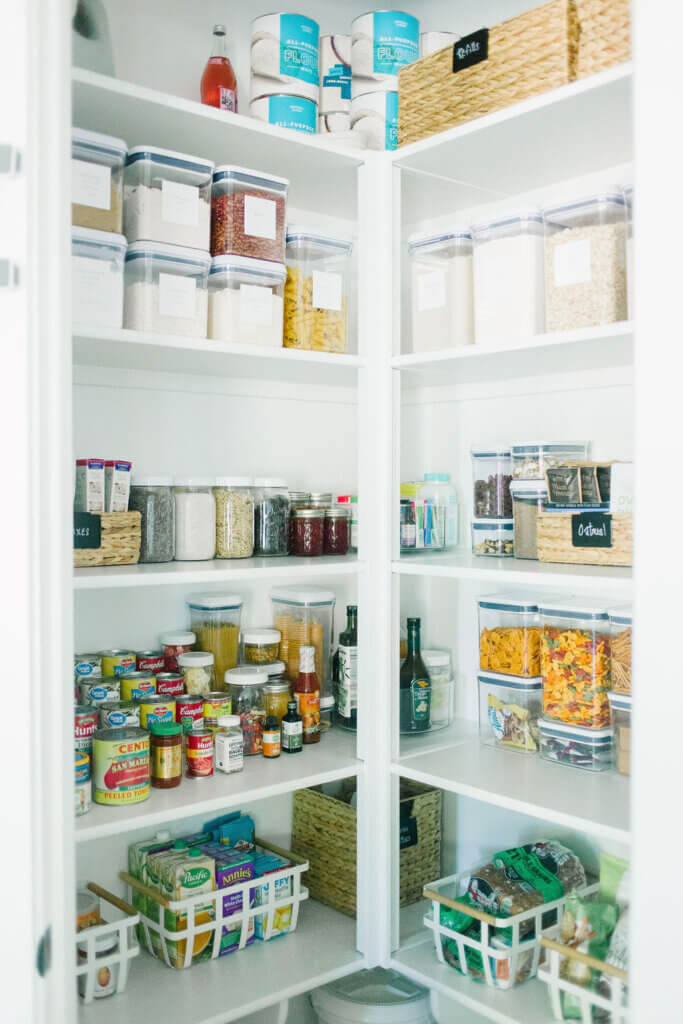 My second level keeps all my bulk baking ingredients. I love the OXO Good Grips. You can get them off Amazon, Container Store, Target or other home good stores. I found a steal on some at TJ Maxx once! These keep my almond flour, rice, flour, oats, sugars, beans and pastas. I also keep one for candy so it's out of reach for little hands. I love that they are clear so I always know what I am running low on.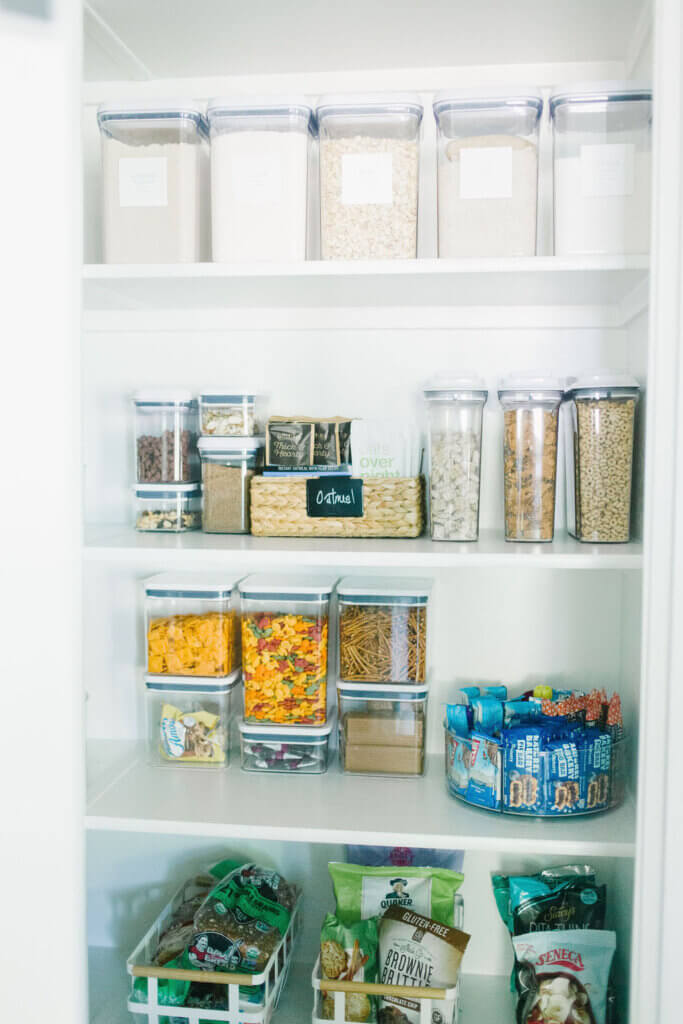 My third level mixes up a little. On the right side, I always keep cereal, instant oatmeals and grits and a few dry toppings for pancakes or waffles like chocolate chips, flax, and nuts.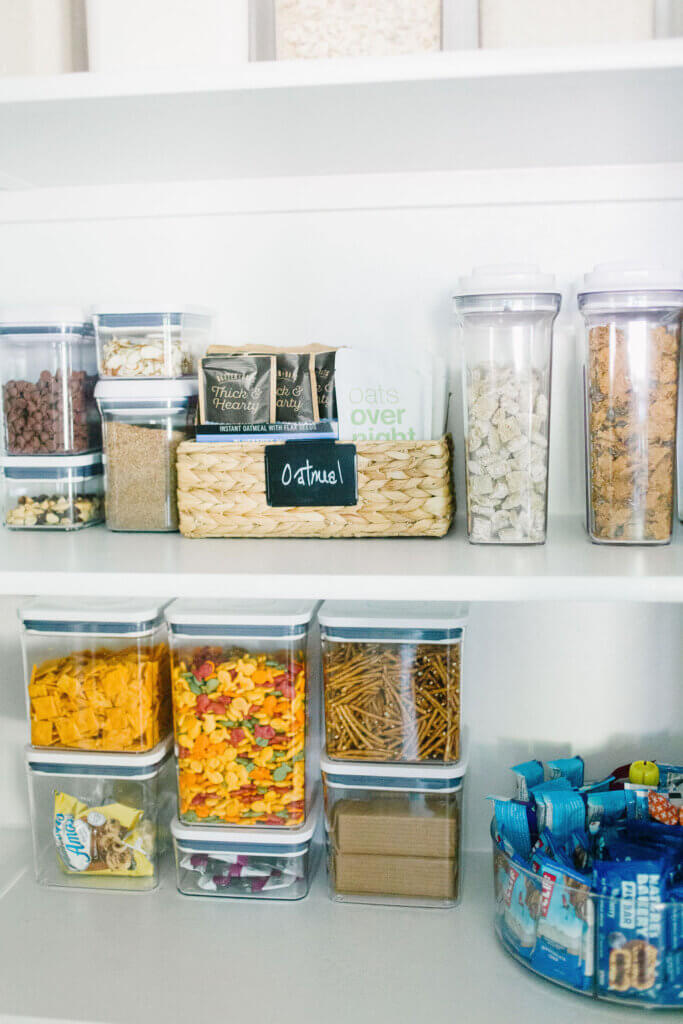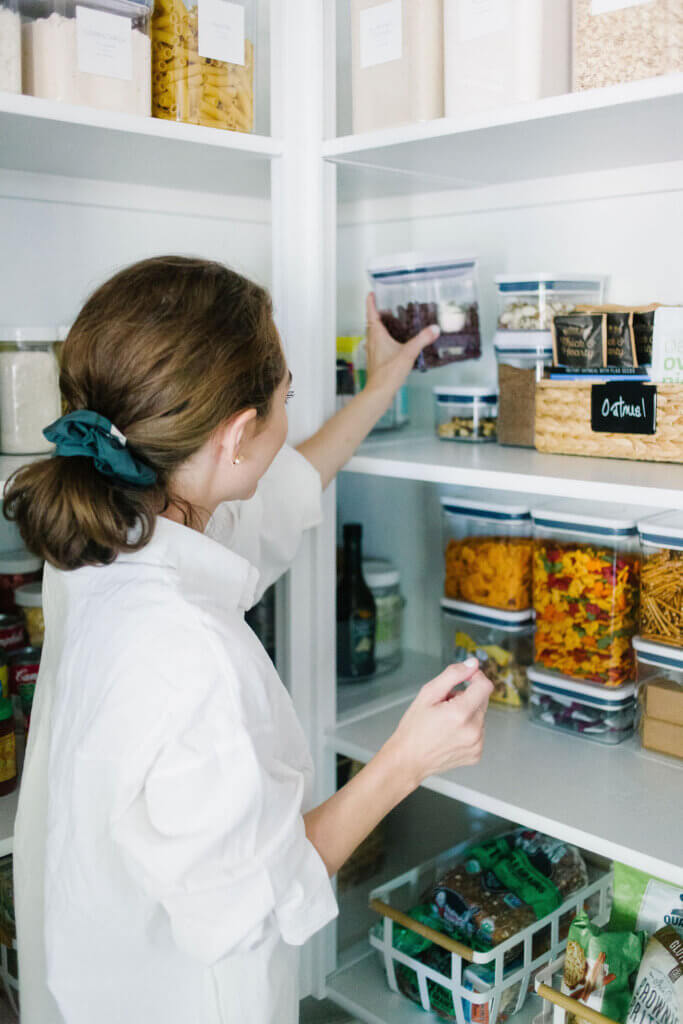 On the left I keep lots of loose food item in mason jars like chia seeds, our homemade jams, and any breakfast mixes for muffins and acai bowls.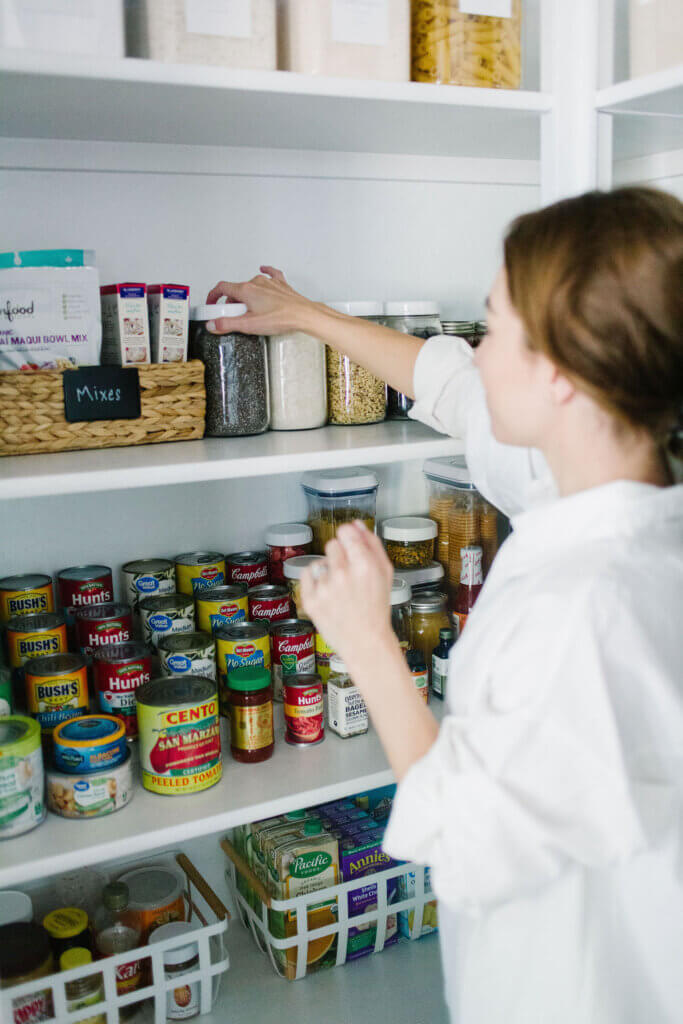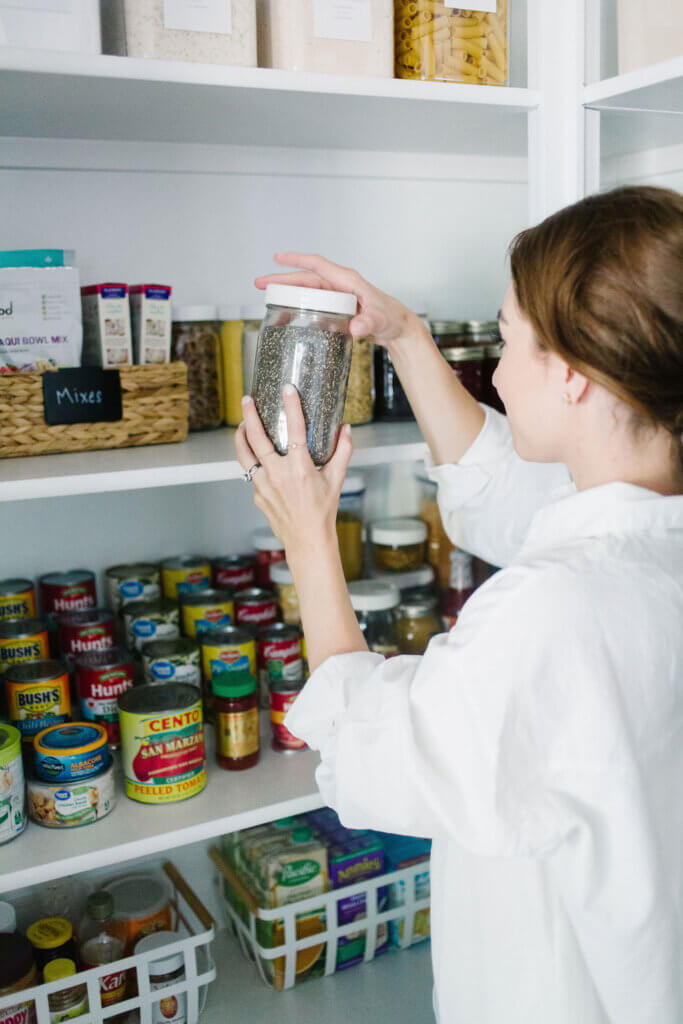 Fourth level down is now accessible to little hands. I made the right side our snack zone with my favorite feature of all – the granola bar turntable! This baby is divided into 5 sections and is so easy to stock, grab, and see what we are low on. I also decided NOT to label the snack zone because it changes depending on what snack are on sale or in bulk at the store or just whatever I am in the mood to buy. Again OXO for the win. They keep our food fresh, appealing to look at, and easy to see when we are running low.
It is good to note: when I am getting low on a snack I dump the last little bit into a bag to toss into my purse, because Moms always have snacks on hand am I right? and I rinse out the containers.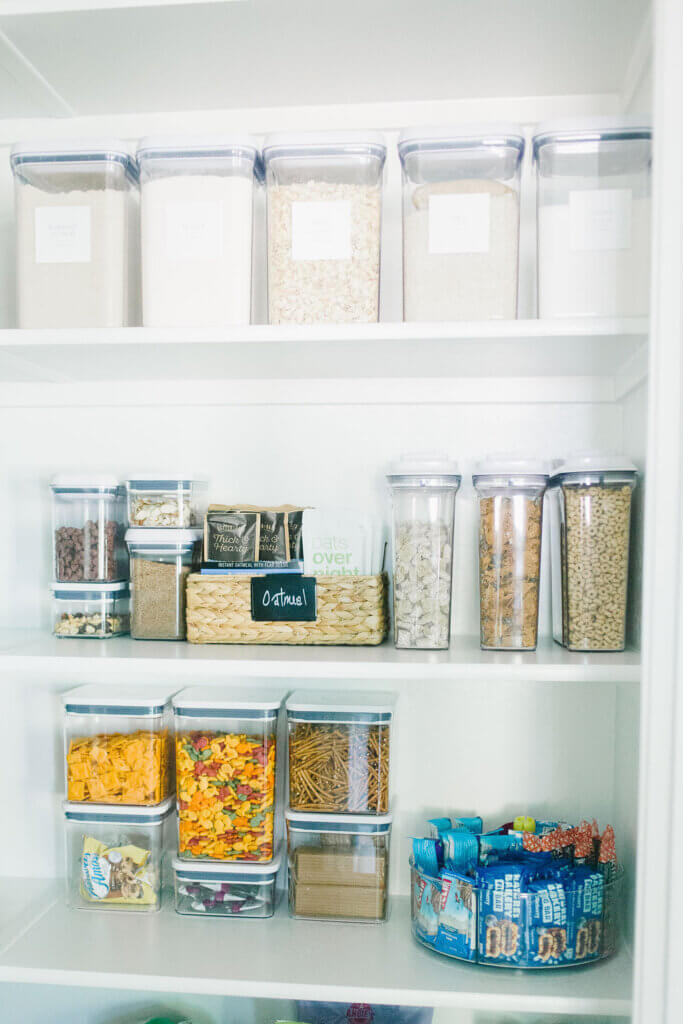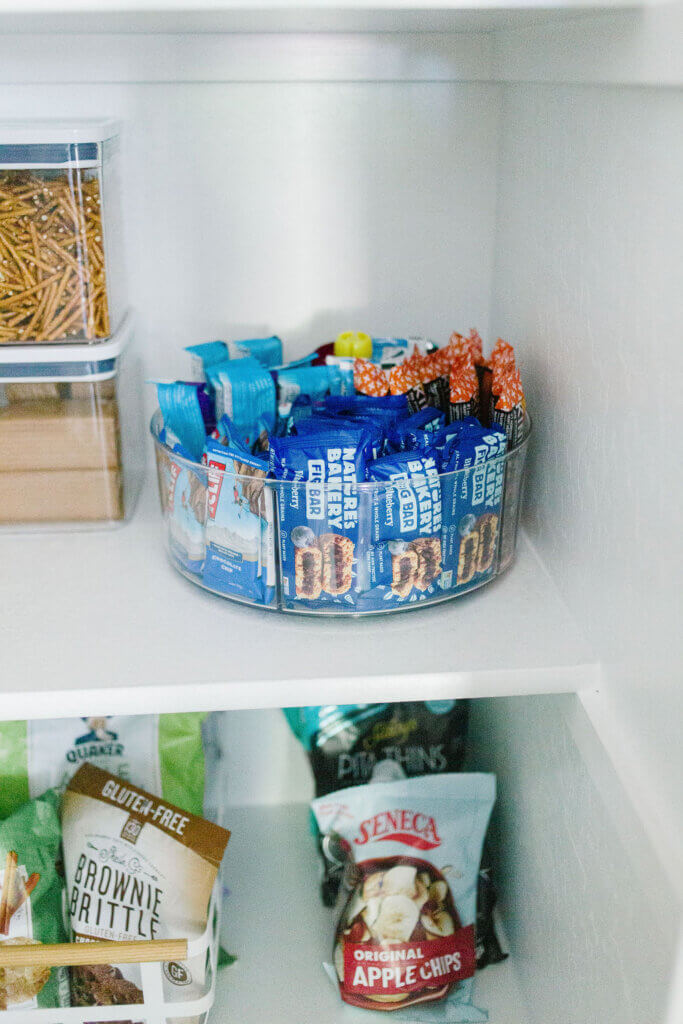 The left side starts to turn into food prep section. I like to have stock of extra sauce and things for soups or casseroles. Right below it I keep some random condiments, some base for soups, mac + cheese and the starter for my favorite cornbread.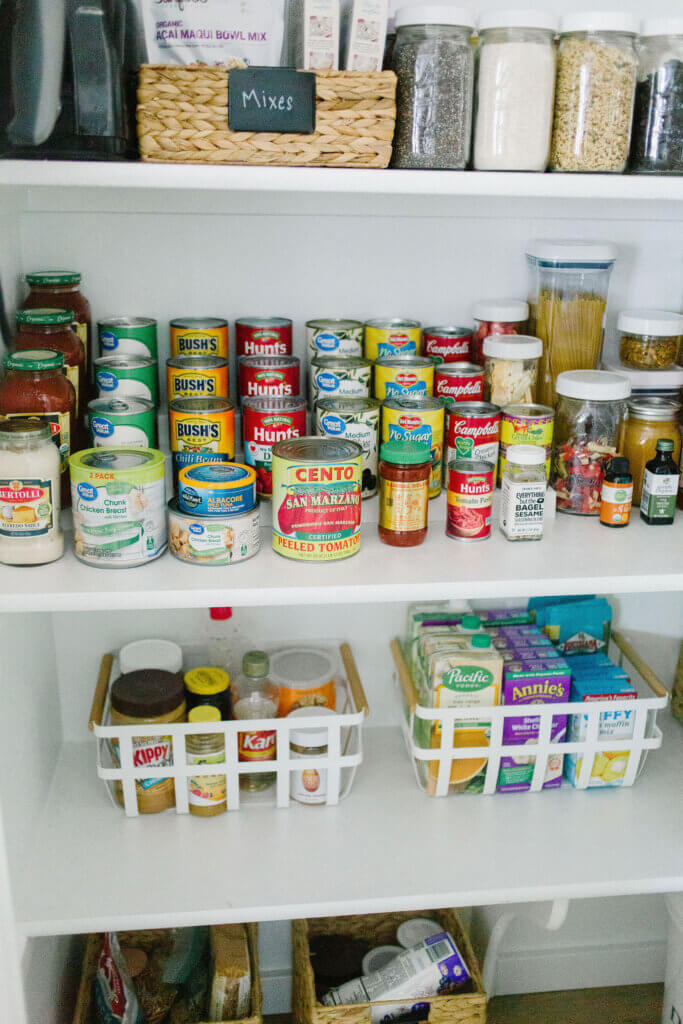 To the right I keep chips, extra crackers, and bakery items.
I prefer to keep the floor clean except for our dog food. I moved the paper towel backstock to the top section and the two baking bins up into the corners.
—
It has been 6 months in this home! Can you believe it? I still tweak and move items in my pantry constantly to figure out what system serves me best. I am just loving finally having the space to store more than just one week's worth of food!
Do you love pantry organization? It is probably one of the hardest yet most satisfying places to organize in your home. It is not a quick project but if you slowly gather the right containers that serve you best you will find systems which can really affect your life in such a positive way!
SOURCES:
Black Clip Labels (other styles available)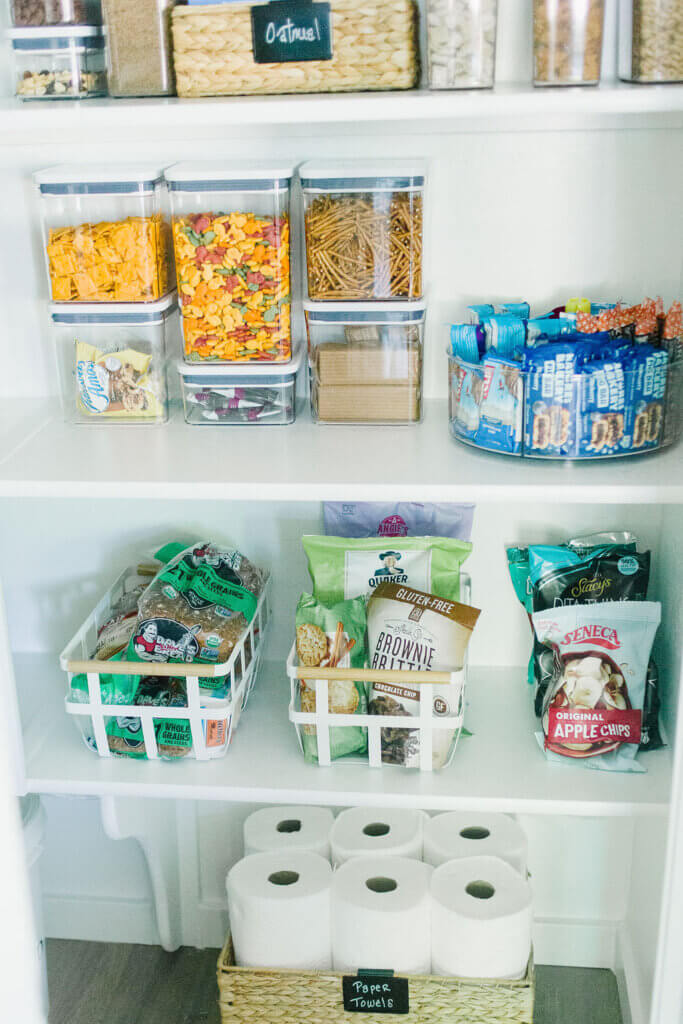 Photography by: Lindsay Gillon