WEEK 1 | WEEK 2 | WEEK 3 | WEEK 4 | WEEK 5 + 6 | WEEK 7 | WEEK 8
It's REVEAL day!
After moving into our new home the number one thing I wanted was to add character to each and every space. From the time we decided we were building, I knew exactly how I wanted the boy's room to look and feel. I think it's safe to say we are all really happy with the result and I am so excited to share their room with you today.
To give some background, our boys are 4 1/2 and 2. They have shared a room for almost a year and I wanted this space to be able to grow with them and also be a reflection of things they enjoyed with a design feel that I also loved and fit with our home. Our oldest picked out green as the color he wanted in their room and our middle always chooses blue so off we went with the blue/green theme.
The two only other requests were stars above the bed and a picture of trees. I literally have no idea where they come up with this stuff but just call me Fairy Godmother and let their wishes be granted.
As a reminder, here is what we started with… well almost. I had already been taping off the layout of the room, but you get the idea.
B E F O R E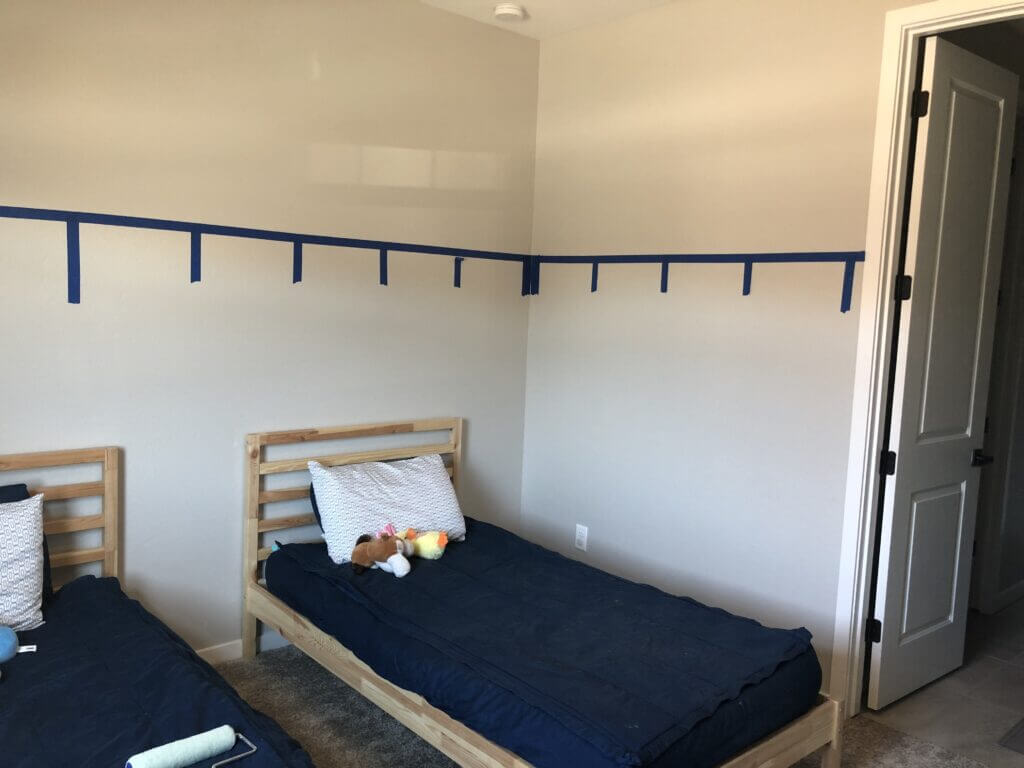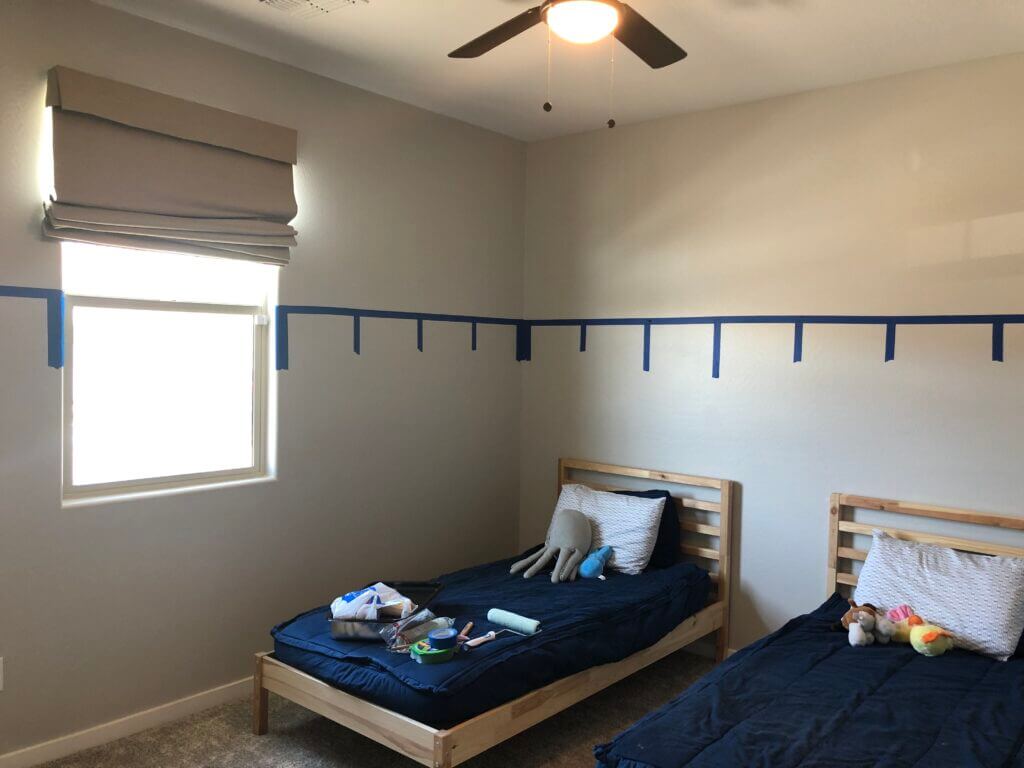 Your average basic builder-grade bedroom. We had these bed frames and bedding that we were going to keep but that was about it. So off to the races we ran. If you forgot, my inspiration for the space was here in Week 1.
Without further ado…
A F T E R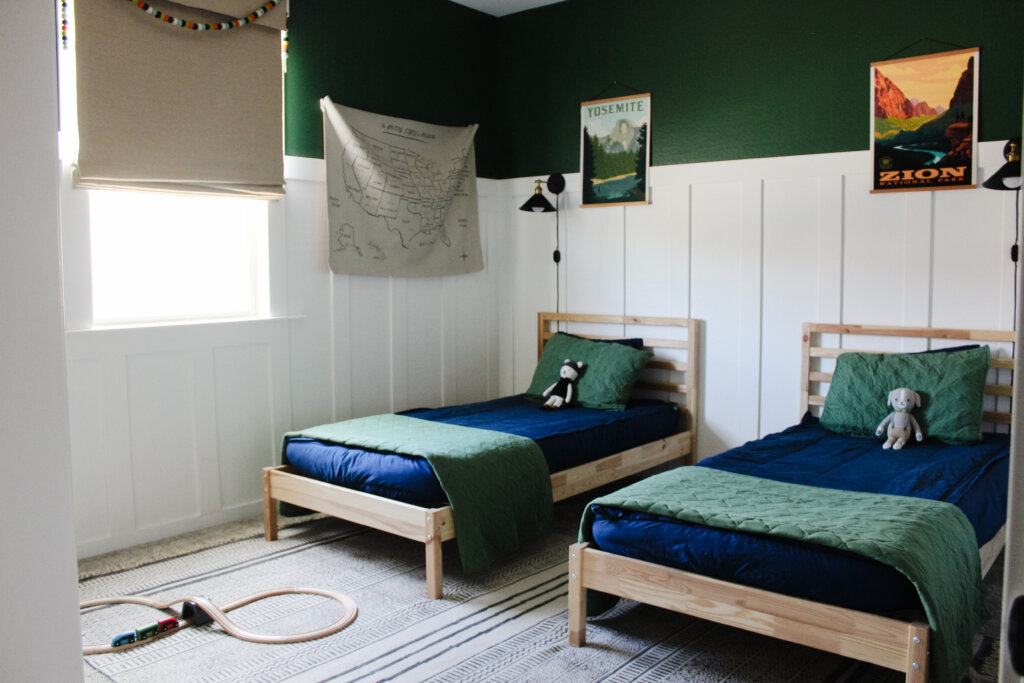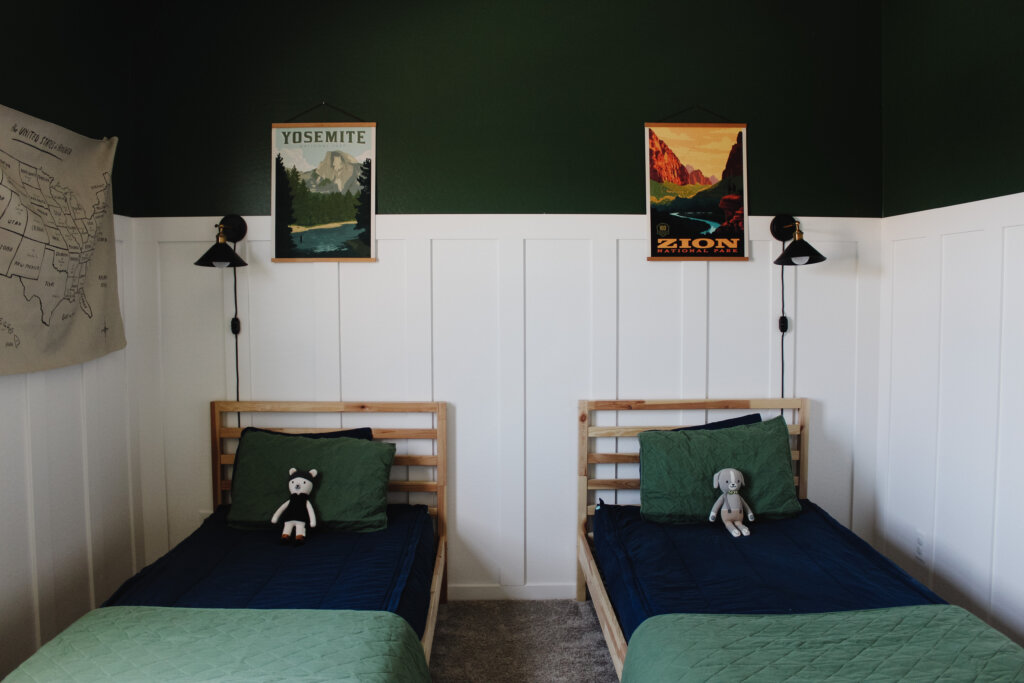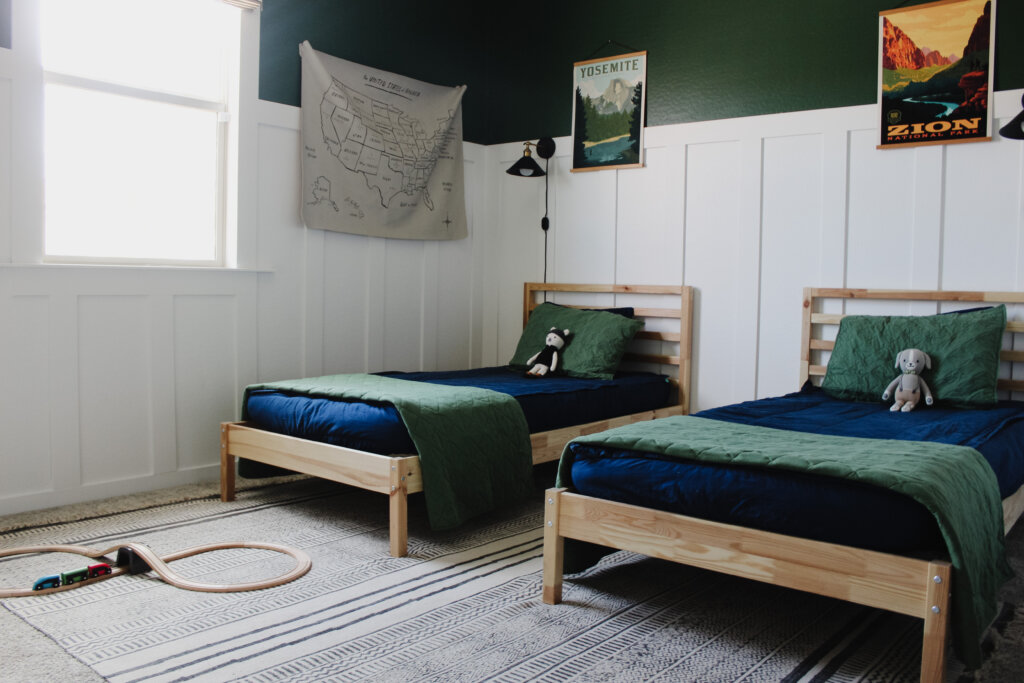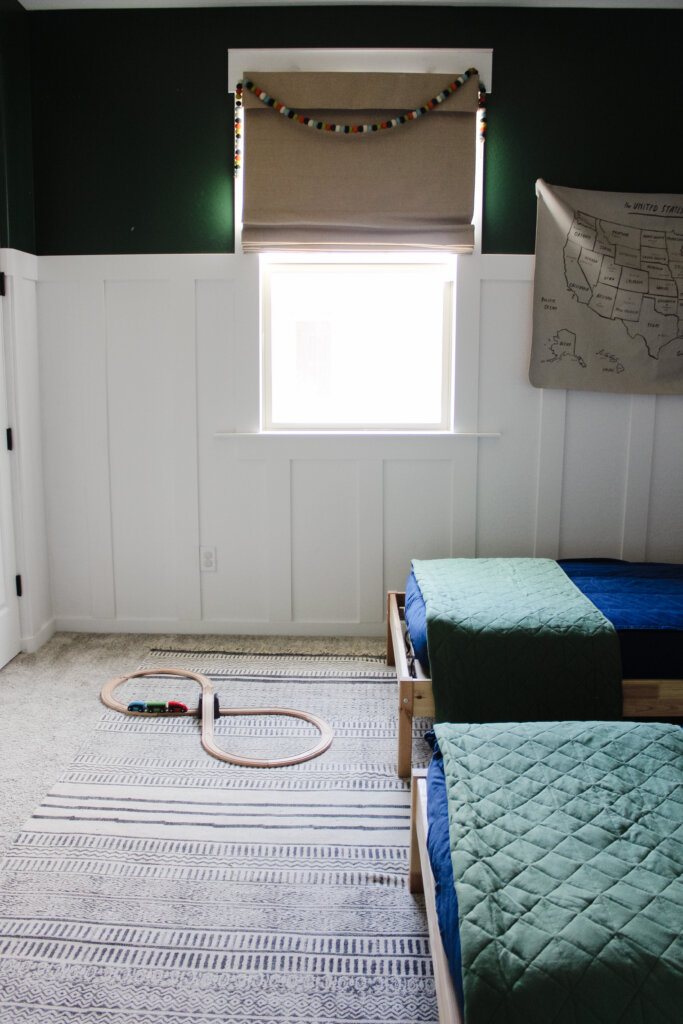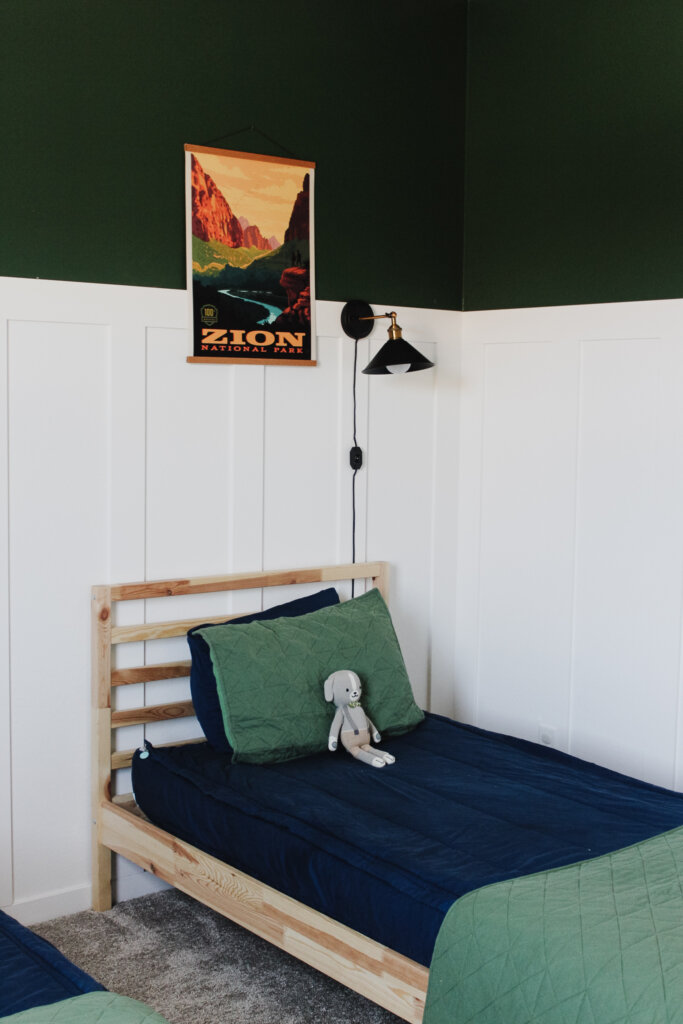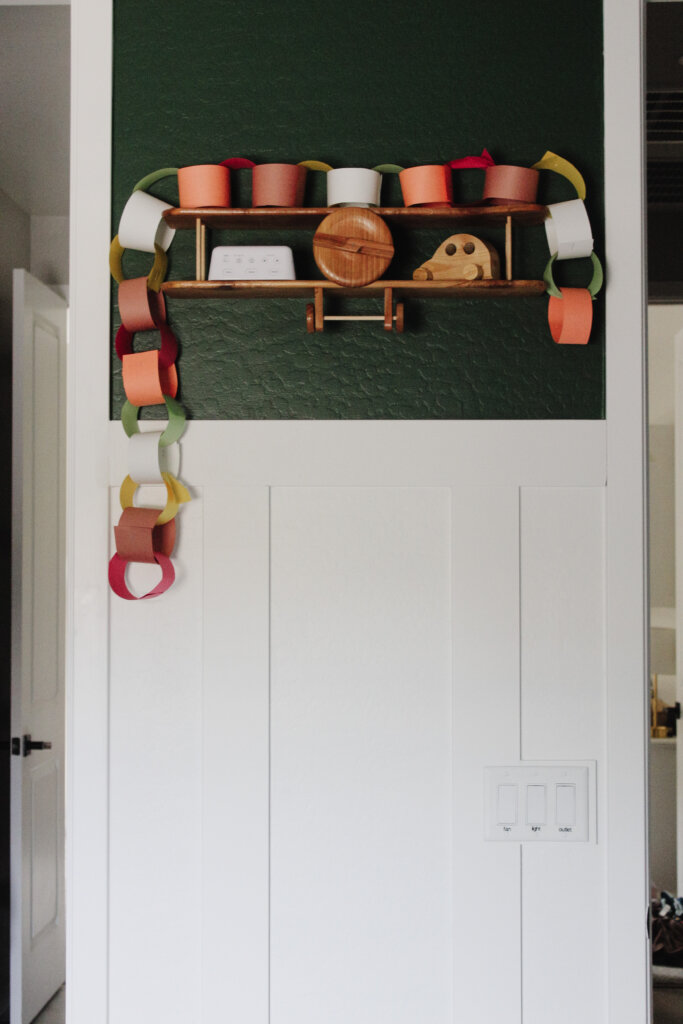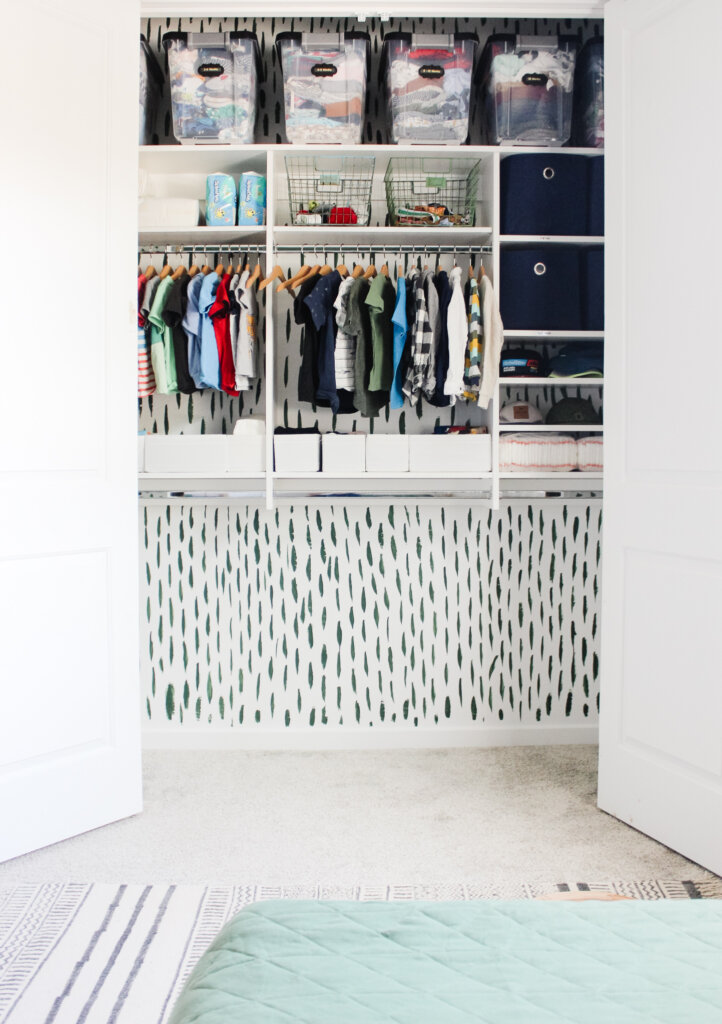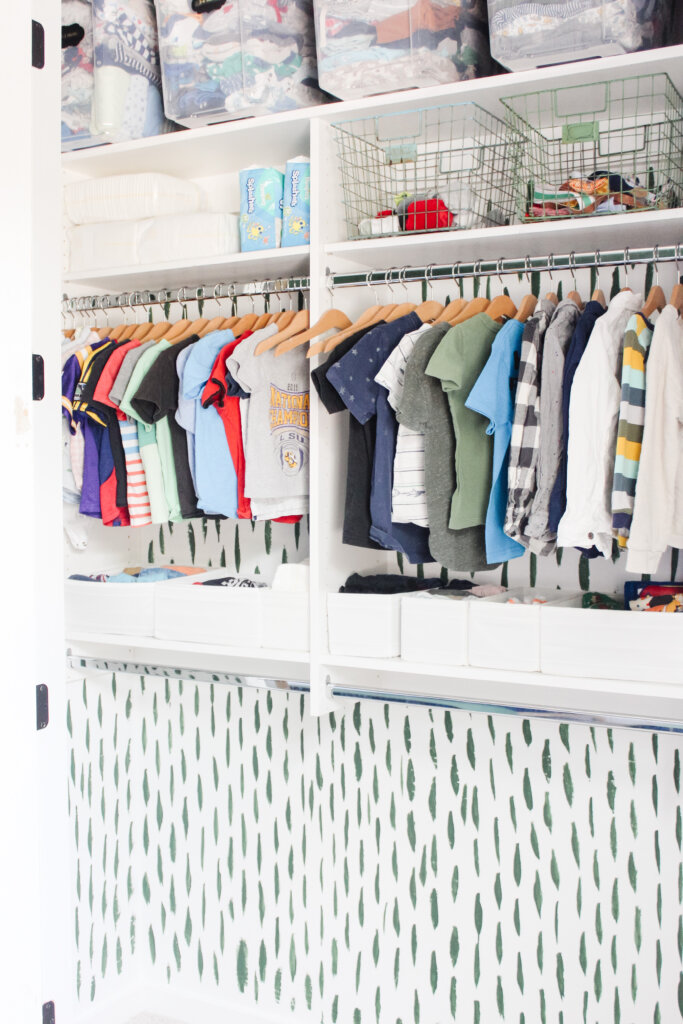 P A I N T
Sherwin Williams generously partnered with me on this project and I am so grateful. Our entire home is Sherwin Williams paint because I love the richness of their colors. I choose Isle of Pines SW 6461 for the top third of the room and it is stunning. I wanted to make sure the color didn't pull too much yellow and Isle of Pines hit spot on. I also used it for the detail in the closet. All the trim in our home is Pure White SW 7005 so I choose that same color to blend seamlessly for the bottom portion of the room and remainder of our trim. We actually left the existing baseboards and didn't even need to repaint them – that's how beautiful the color blended.
T E X T I L E S + D E T A I L S
I knew it was a must have to have a blackout shade in the boy's room because HELLO we all need some sleep! It was probably the first thing we ordered and installed for our house. I choose the cordless roman shade by Select Blinds in the color Wheat with a blackout liner. Select Blinds has amazing customer service and you can custom your blinds to perfectly fit your window. We have really loved the quality and I love that the color adds some natural hues and ties in well with the bed frames.
I always knew I would be keeping our Beddy's because they are a game changer with young kids but I also wanted a little more tie in with the room color. I found this vintage green quilt but my store only had one left 🙁 meh. I couldn't find anymore online and bigger downer was it was slightly damaged. I waited and waited to buy it but just kept thinking it was exactly what I wanted in their room so I bought it and they gave me a discount! I was able to cut out the damage and sew (yes you read that right) the twin quilt into two smaller quilts. We don't ever really need extra layers on our beds because AZ is so hot but I do like something to throw down on the bed since our dog Duke sleeps with the boys for naps and at night. It makes it a lot easier to clean!
As you may have read in my earlier posts, Ry requested a tree picture above his bed. I racked my brain for a few weeks because I didn't want the room to have a literal theme since I wanted it to grow with the boys. A lot of online searching and I stumbled upon Anderson Design Group and found these gorgeous Vintage National Park Posters. Cam grew up near Half Dome and we love Zion's National Park so we went with those. Y'all the quality of the printing is so gorgeous. I wish I was a better photographer so I could capture it, but I was really impressed when they showed up. They have tons of options so give them a look!
Last little area I wanted to touch on was the closet. This wasn't an afterthought as much as a great thought! The closet is basically an 8 foot reach in that had sliding doors which restricted access to the entire closet. We worked with Classy Closets to create this super functional closet that would, I'll say it again, grow with the boys. It has an entire bottom hanging rack that I can hang a few shirts they can reach and choose by themselves and helps teach them independence in getting ready each day. As they get older, they could use it to hang pants. I love the cubby system and the sides are divided for each kid. I use the top section to store baby clothes and hand-me-downs for Riggs. You might have seen my paint debate on my Instagram. I am a firm believer in a little bit of whimsical in every room and here it is. When we open the closet it feels so fresh, fun and young. It has some spunk which is right up my boys alley.
B E F O R E + A F T E R
Just for fun a little side by side comparison for you 🙂
–
I'd like to thank Linda Wienstein, the creator of the ORC for starting and managing this bi-annual event. And I also want to thank the partner of the One Room Challenge, Better Homes & Gardens! This was such a happy project to undertake during a very complicated time in everyone's lives.
I want to thank the amazing and generous brands that trusted to partner with me,
Select Blinds
Sherwin Williams
Classy Closets
Anderson Design Group
S H O P _ T H E _ D E T A I L S:
Paint (in Isle of Pines + Pure White) // Bed Frames // Bedding // Quilts (multiple colors!) // Roman Shade (Classic Roman Shade Cordless in Wheat) // Sconce Lights // Vintage National Park Posters (Yosemite) + (Zion) // Frames // USA Map // Rug // Wooden Airplane // Stuffed Animals // Closet System // Closet Storage Boxes //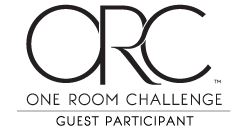 Check out more amazing designers on the ONE ROOM CHALLENGE BLOG and thank you so much for following along!
*Disclosure: I received items from sponsors as compensation in exchange for this post. All views and opinions are my own.