WEEK 1  |  WEEK 2  |  WEEK 3  |  WEEK 4  |  WEEK 5 + 6  |  WEEK 7  |  WEEK 8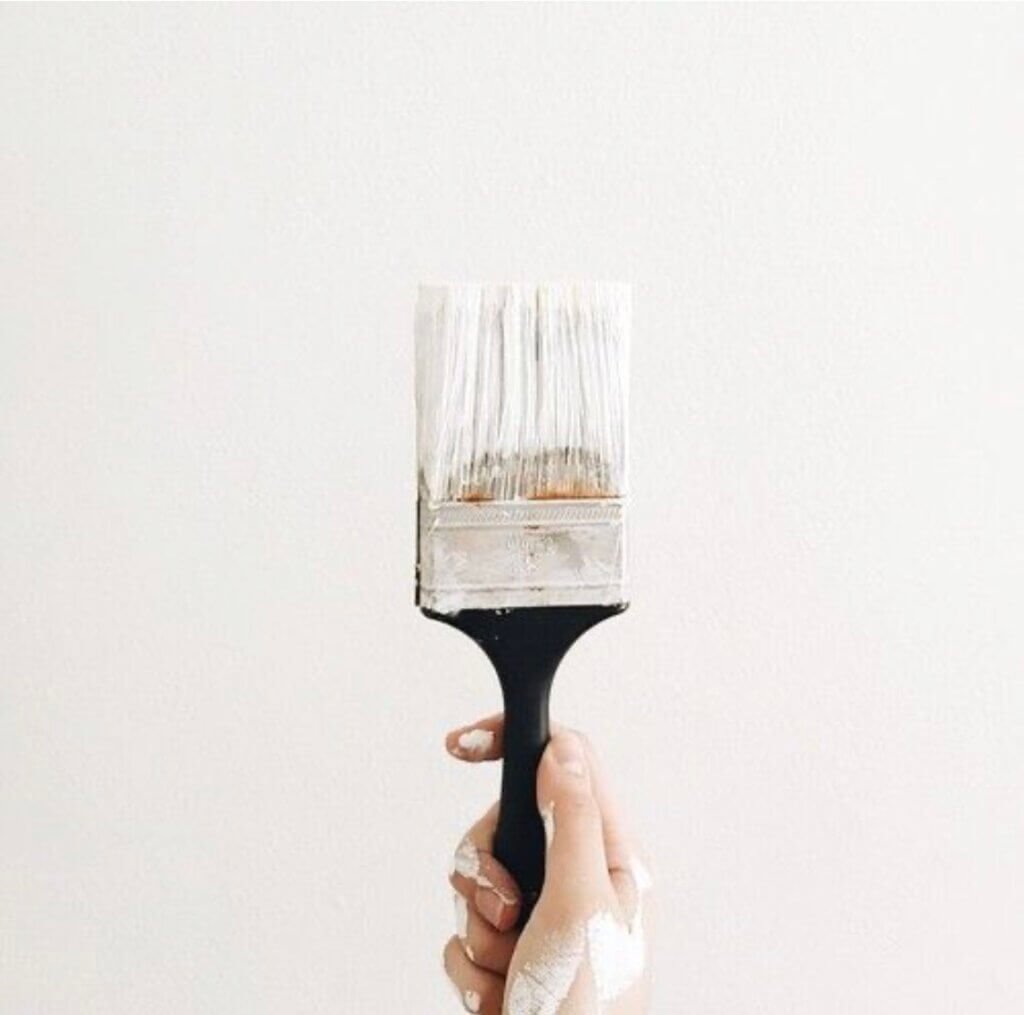 Last week the One Room Challenge team muted week 5 blog posts and sharing in response to the Black Lives Matter movement. I hadn't written up my post so I decided to take a pause as well to do my own listening and learning.
I have so much to catch you up on 🙂 Last week was a demo of the reach in closet and we sanded and painted in white. Classy Closets (bless them) came in and did an amazing custom reach in design that is perfect for the boys and can grow with them as they get older and need more space.
You might have caught a peep of me on insta stories free hand painting the closet with a brush stroke technique! Eekk Y'ALL I loved it so much I painted the entire thing! If you don't love it I don't even care that's how confident I am in how it looks >haha<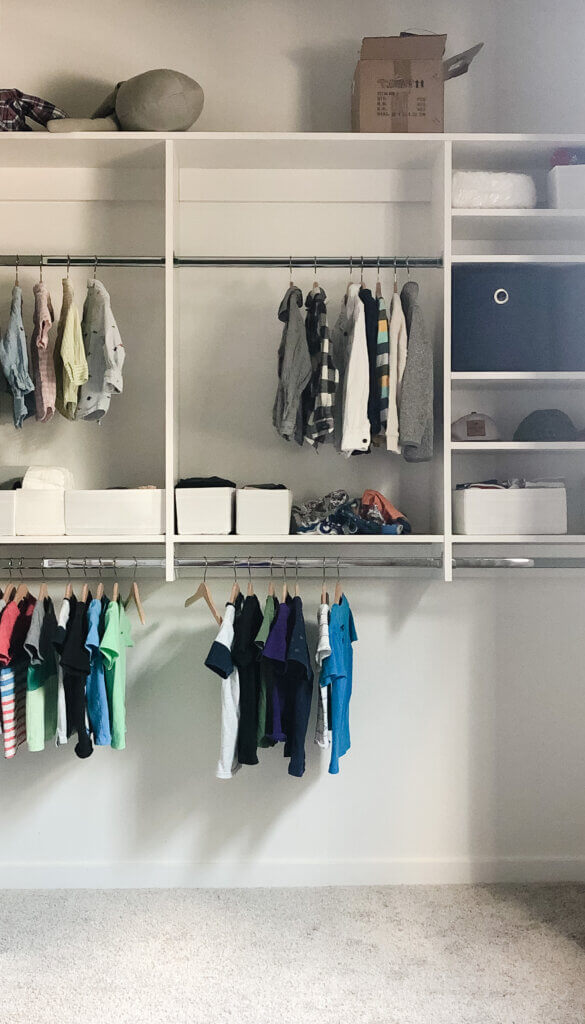 Speaking of closets – I kiiiiinda got carried away. See, we had sliding closet doors and it just could never give the full scale effect of my da Vinci talent 😉 so I asked the hubs if we could finagle french closet doors out of the ones we had.
Sure babe.
🙂
The man worked some magic I tell ya. We have hollow core doors so he had to rip the outside edge length wise to the width of the existing frame. He cut down a 2×4 to fit within the frame of the door to secure in place. He had to route the hinges on the doors and the frame and hung the doors. They were a little off so he had to shim one door and then added a top horizontal trim to make a door stop with magnetic closure. Phew! Are you tired just reading that?
Good news is they look amazing. We have to finish some of the closet frame and then I have some paint to touch up around the door and a few areas on the walls. Other than that I finished painting the bottom 2/3 of the room, installed the over bed task lighting, added the very requested glow in the dark stars and purchased/facebook market scored some great finishing details for the room.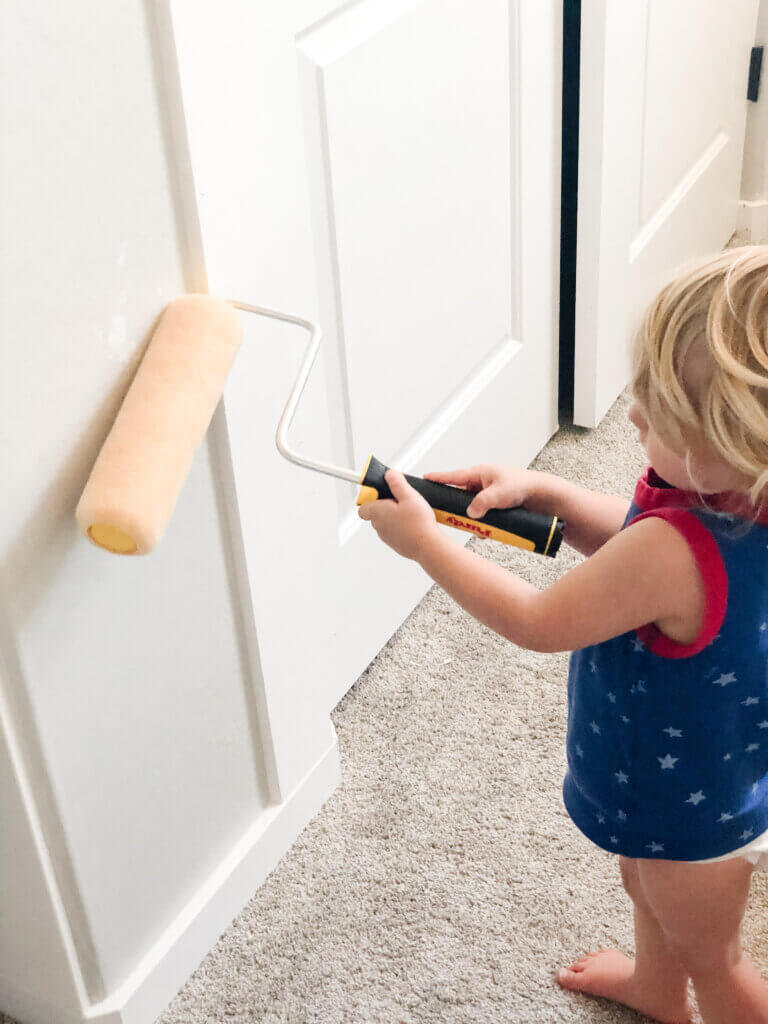 We had a LARGE AWESOME task we wanted to try out but after taking into consideration our 2 year old still being insanely dare-devilish we decided to put those plans on hold till we can trust him a tad more #boymom
Can you believe the reveal is in less that TWO weeks! I can't wait to share! In the meantime, here is our remaining to-do list…
TO-DO LIST UPDATES
-Take measurements and before photos – DONE!
-Purchase board and batten – DONE!
-Choose paint colors at Sherwin Williams online + test samples – DONE!
-Get paint c/o Sherwin Williams – DONE!
-Paint top 1/3 of room with two coats with color 1 – DONE! I will share exact color formulas in my reveal post
-Paint bottom 2/3 of room with two coats with color 2 – DONE!
-Cut boards – DONE!
-Install board and batten – DONE!
-Fill nail holes – DONE!
-Calk seams – DONE!
-Finish framing window – DONE!
-Make dresser (cut this from our plans based on scale of room)
-Tear out existing closet shelving – DONE!
-Paint closet – DONE!
-Build out new shelving system – DONE!
-Install ceiling fan – DONE!
-Install bed lighting – DONE!
-Install roman shade c/o Select Blinds – DONE!
-Touch up paint – plan for week 7
-Finish framing out closet – plan for week 7
-Find closet door handles – plan for week 7
-Add finishing details: rug, decor, map, books/bookcase (artwork found via AndersonDesignGroup!!!) – plan for week 7
-Break down cost – plan for week 7
-Photograph room – plan for week 7
REVEAL JUNE 25 – WEEK 8!
—
I have been sharing updates via my IG stories under the "ORC boys room" highlight!
I want to thank the amazing brands I am fortunate enough to be partnering with for the ORC:
Select Blinds
Sherwin Williams
Classy Closets
AndersonDesignGroup
—
Check out more designers on the ONE ROOM CHALLENGE BLOG and I will see you back next week for updates!
WEEK 1  |  WEEK 2  |  WEEK 3  |  WEEK 4  |  WEEK 5 + 6  |  WEEK 7  |  WEEK 8