Happy Tuesday! I hope you enjoyed seeing a little update on our Boy's Shared Bedroom but alas onto our next project…
Okay, so when we originally built our home we have two bedroom that share a Jack-and-Jill bathroom. We always thought the boy's would share one room and Miss Z would be in the other. We thought about splitting them as they got older and letting baby girl have her own room across the house but we figured while they were young they would all be in the same wing of the house.
Plans Change
Whelp – plans change! After actually living here for a few months, I realized I was always trying to keep the boys quiet while Z slept + at night if she cried it would sometimes wake up Rigg. So we came up with a new solution!
Insert the bunk room! We are keeping our first boy's room the exact same but moving Z out and giving the boys a built in bunk bed!
We will end up having 4 twin beds between the two spaces and in case we have guests with kids in town we will have plenty of room for everyone!
Z is going to be moving over by the ballet studio which is super girly and perfect for her anyways and is tucked far enough away for it to stay quiet when it needs to be.
Onto the Inspiration!
For the bunk bed room, I really wanted a built in bunk bed but the quotes for that project were quite a bit above our budget. So I sketched out jut what I wanted + the Mr said he was very confident he could achieve the look! Gosh, I adore him.
I have had so many people tell me that Riggs is our little California surfer boy and after Ry actually tried out surfer on his boogie board, the idea just hit me… A SURFER ROOM!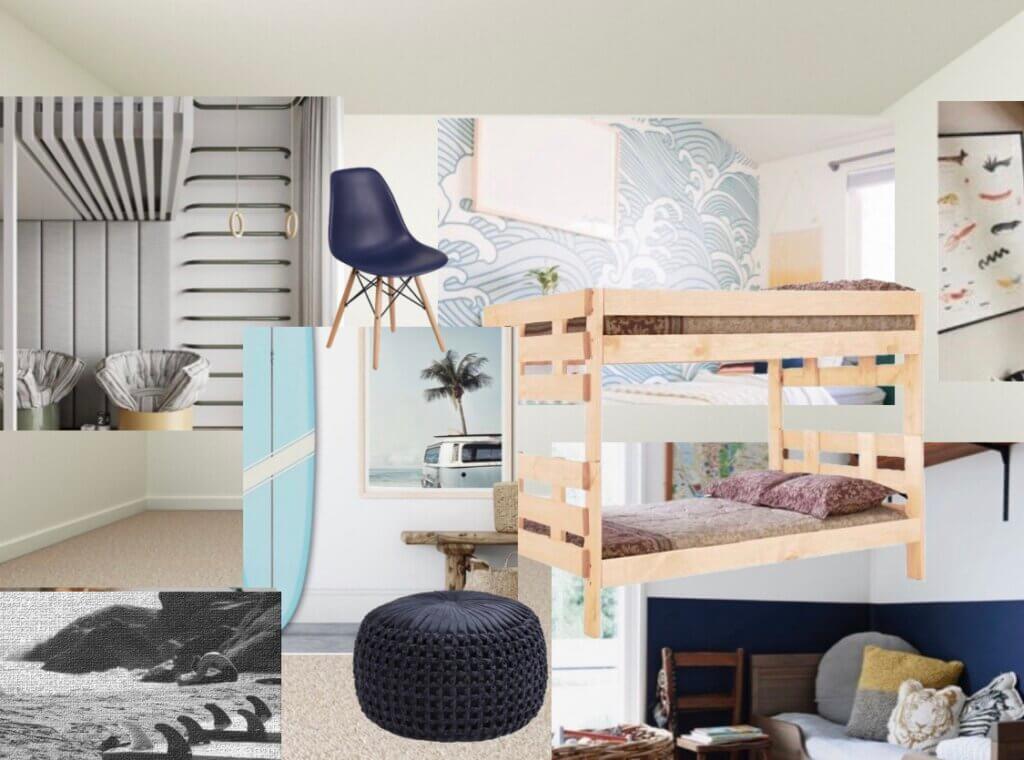 We are adding in wallpaper because WHY NOT?! I also had Cam build a gorgeous desk which is probably the prettiest thing he has ever built besides our children (ha)
I want more blue tones in this room that I think we nicely compliment the navy and green tones of our National Parks room. I have also been sourcing some vintage looking art work and still deciding on bw or color images.
OH! And we are building a special little nook for Duke. He loves sleeping with the boys but we can tell he is getting older and might need a softer spot more ground level eventually. Surfs Pup! 🙂
I can't wait to share more as we progress. – Have a great day!