When my oldest started talking about his birthday, I realized pretty quickly how excited he was to turn 4! I also realized quickly I would be 9 months pregnant… I LOVE throwing a party and hosting. The planning and decorating bring me a ton a joy but it is also a lot of work and I knew it wasn't in the stars this year.
Also, last year's birthday party was great and he got a ton of gifts but… right before Christmas where he got A TON OF GIFTS. The over abundance just didn't line up with our family values of simplicity, gratitude and experiences over things.
So What IS a Fiver Party?
I read an article months ago about the idea of a 'FIVER' birthday party. Instead of having people bring toys or gifts – a fiver birthday party simply asks for families to bring $5 to put towards one large gift!
I knew this was up my alley and talked to my son about how he felt. He didn't even care! He kept asking if he could still have all his friends come and that the party be Paw Patrol themed. I truly believe he didn't care one bit about the gifts!
Mom Approved
-Much less stressful on parents! You don't have to have one more thing on your do to list: 'pick up present for so and so's birthday'
-Budget friendly! I added up the cost of a bag, tissue paper and card (not including an actual gift) and that alone was over $5!
*TIP: I think if you wanted to add a card and not just show up with cash another great idea would be to have your child write out their own card to their friend and slip the money inside – still budget friendly and a little more personal!
-Teaches kids to enjoy and value relationships over the expectations of getting stuff
-Cuts down on toy clutter which is huge when your child's birthday falls near the holidays
– You can get one big really nice gift rather than several smaller ones. I think this keeps the element of fun for the birthday kid. You could have them pick out a toy themselves (what we did) or put all the money towards one large gift that you bring out at the party (creating more of a surprise)!
The Invitations
I played with the wording several times on his invites because although I loved this idea, it made me slightly feel like we were asking for money. Culturally, when you are invited to a birthday party you bring a gift unless the invite specifically says 'no gifts' which I think is also another great party idea to promote minimalism and a cultural of less stuff. I just wasn't 100% sure if doing a 'no gifts' party would go over well with my 4 year old and this idea really intrigued me.
Most people I talked to had no idea what a 'FIVER' party was but all the parents seemed 100% on board – it simplifies everyone's life in the long run.
Here is the invite I made and wording I came up with. I wanted people to just come to the party because overall I knew that would make the birthday boy the happiest!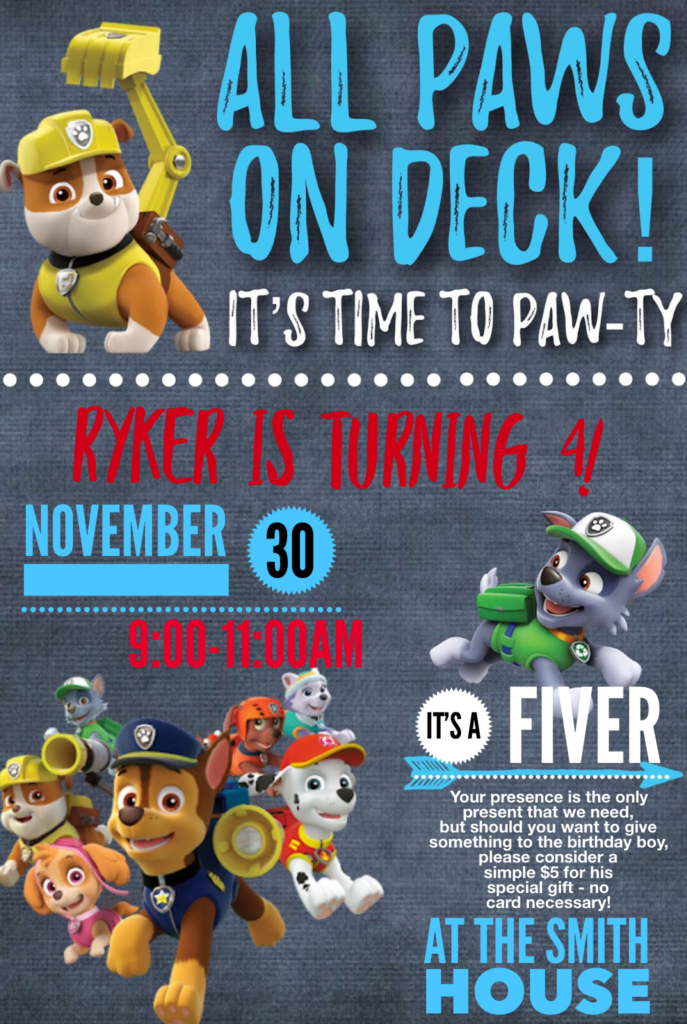 Party Decor
I stuck with some very minimal decor using Paw Patrol toys and vehicles Ryker already had. I also had an extra table cloth left over that I used outside and enough left over paper products from another event.
Things I Bought:
Balloons
Paw Patrol Table Cloth
Paw Patrol 'Pin the Badge on Chase' Game
Chalk
Play-Doh
Drinks
Custom Donuts + Donut Holes
Total = $45.03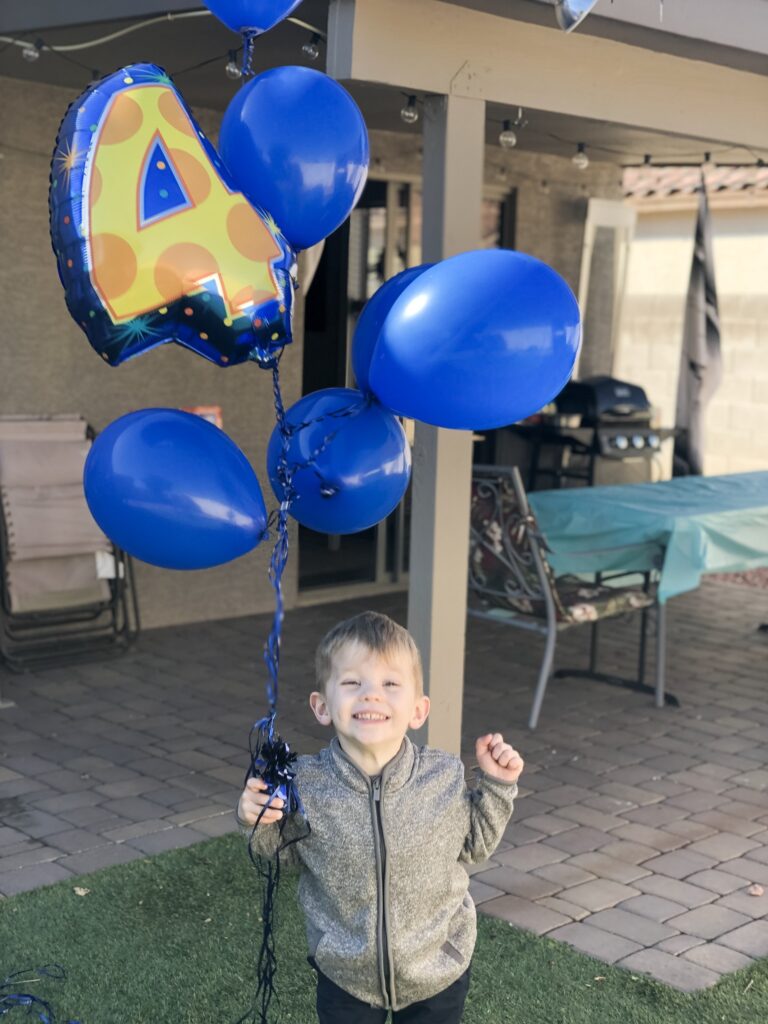 Play All Day
The day of, all his little friends showed up and everyone played outside for 2 hours! It was amazing! We had chalk and play-doh ready to go and we also have a little jungle gym/slide the kids loved climbing on. I kept the bikes and scooters in the yard as well and all the kids played great together.
About halfway through we had them come in for donuts and to warm up and then everyone went right back outside to play.
It was just what I pictured and as you can see above – the birthday boy was thrilled!
In Retrospect
Overall, we loved doing our big guys party this way. We had about half of friends bring $5 and half still brought presents which was totally fine. I know some people just keep gifts stocked up and ready for parties or just love having their kids pick out a gift for their friends and that was okay with us.
I would have a place for friends to put their $5. It kind of felt like a tip jar but we just put out an old canister and when kids brought their money in we had them put it in the jar. However, I didn't think about this till the moment of and was scrambling around looking for some sort of container.
We took the birthday boy to Target and let him pick out the toy he wanted and he was happy as a clam. A week later, he is still playing with it (a good sign) but still mentions his friends and donuts much more than the toy. We are also finishing up Thank You cards to send out. It's something important to me that my kids learn to be grateful and writing out thank you's is a big part of that for our family!
*TIP: One of my friends suggested we could include what he picked with his money or a picture of him holding it. I thought that was so fun!
Gratitude
My hope is that by doing a more simplified party my children will learn to not expect to receive presents but be grateful when they do and learn the importance of friendships and relationships over things. I know that is a lot to ask from a 4 year old but I think that building these stepping stones now will hopefully create that foundation in the future!
Also Grandma made the coolest cake for his actual birthday and it would be sad not to include this magical creation here!