I finally found some time to get it together and make our blog yay! Cam and I have done so much in the past 5 months and have had so much fun together! I thought I would just give you a little (it will probably be long) update on our lives!
We got married May 21, 2011 in the Columbia, South Carolina Temple! It was a gorgeous day! Cameron and his family (mom, dad, sisters, niece, nephew, and maternal grandparents) flew in earlier that week! We had a great family dinner and everyone from both sides finally got to meet. We had my great grandma's famous spaghetti sauce and had a blast catching up. Cameron and I had been apart just about a month and were dying to see each other! Cameron had been very busy studying for the DAT to get into dental school and took it the week before our wedding! Crazy but my cute husband is super smart and did amazing on the test!
The next day we went down to the courthouse to apply for our marriage license and get paperwork figured out. That night was a special night for me spiritually which was an amazing experience! I got to see Becky who had come all the way from DC! Then we all went out to get MEXICAN FOOD! My favorite! Jenn, Jeff, Christy and the girls drove up from Louisiana and were pretty tired Thursday night. Also, the groomsmen flew in together from Hawaii, California, and Utah! We and fun catching up and playing in the hot tub but everyone was pretty much exhausted!
Friday was girls and guys day. The girls all met up at the nail salon to get pedicures and manicures to look spectacular for the big day. We had brunch and a lot of fun. The boys went golfing in Augusta, Georgia and then picked up the tuxes. That night we picked up our marriage license (which I almost forgot and got to the court 30min before closing time) and we had a big rehearsal dinner with all the family and wedding party! We got to watch our growing up movie and eat tons of great southern food!
Saturday I woke up at 6 to get my hair and makeup done downtown. So early as I crawled out of bed in my sweats. On the drive over I ate my strawberries and cream oatmeal and chocolate milk! My dad dropped me off and went home to get ready and my mom and maid of honor met me at the salon to girl talk and whatnot! My fab photographer showed up to catch some candid moments of me getting all ready! Hair and makeup took a little longer than expects although we had done a test trial for my bridals. I was freaking out because I was so late to my own wedding! Dad called the temple to let them know I was still coming! hahaha 🙂 I freaked out and ran inside ready to be ushered to my room. However, everyone was so calm and cam just hugged me and told me to calm down. By this time I am practically crying because I am so nervous and LATE! They reassured me that I cannot be late to my own wedding and that everyone else can wait. So I got ready signed a paper and an hour later I was married! It was so amazing and special and I have never felt happier in my whole entire life. I wanted to stay in that moment forever. After we took about a billion pictures outside Cameron and I changed and drove back to Aiken.
We talked and wrote in our journal our memories the hour drive home so that they were fresh and we could remember everything. We got home and were so exhausted and HUNGRY! We ate some leftovers from the rehearsal dinner the night before and everyone was off to help decorate and prepare for pictures and the reception! Cam and I had a big surprise wedding dance for everyone as our first dance and had to practice our sweet moves in my dining room. (will post video later) We got ready for the reception, touched up hair and makeup and drove over to The Belle House (A gorgeous little white plantation.) We drove up and saw the yellow Camaro that my dad had bought to restore for our getaway car. Cameron was so surprised and excited that he didn't know what to say.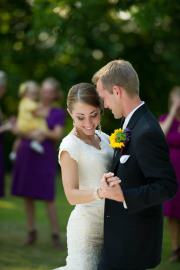 We looked around and everything was gorgeous. Everyone had done their jobs above and beyond and I couldn't of asked for anything more! We went inside and the picture taking began! Right after the reception started, the wedding party was introduced and we all danced under the sunflower archway! We did dances with moms and dads and our first dance pretty much rocked! It was so wonderful seeing all of our favorite people together having fun! My maid of honor caught the bouquet and Cam's best man caught the garter. Pretty much a wonderful touch! We walked down the aisle of sparklers and then took off in the crazy decorated Camaro to start our crazy lives together!
**Check out what one of our groomsmen said about his adventures during a southern wedding!**