*As featured by SoFabFood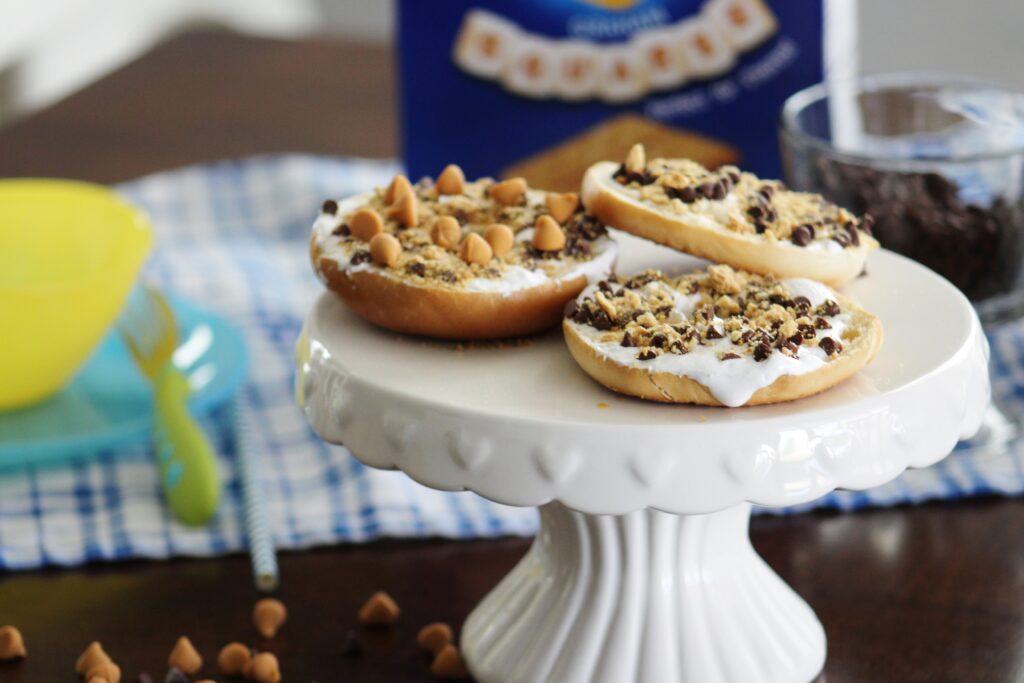 Make memories with your kids in the kitchen this summer when you let them get their hands sticky making these fun DIY S'mores Dessert Pizza Bagels. A unique twist on a traditional summer favorite treat!
Can you remember back to all the fun little pieces of life that made up your childhood? Saturday morning cartoons, summertime with sticky popsicle fingers, blanket forts in the living room. I can almost smell the popcorn popping right before a Saturday night movie.
Isn't it crazy how one smell can bring back a moment and make it feel like time is standing still? I had one of those moments the other day with my son and realized there are so many opportunities to create memories. I once heard someone say that it is in the ordinary moments where joy is created.
COOKING WITH KIDS: PIZZA BAGELS
One joyful memory that always sticks out to me is homemade pizza. We would lay out all the toppings and create silly food faces while sneaking little tastes here and there. I loved that everyone could make their pizza just how they wanted. So we decided to do our own homemade version of mini pizza bagels for our family!
We got started with a jar of pizza sauce and then added on our favorite toppings. Just like that my sweet tooth started to kick in and a crazy idea was born. We should make dessert pizza bagel bites! When you think summer treats, you can't tell me that s'mores don't pop into your head at some point, right?! They are a summer tradition and oh-so delicious which is how these DIY S'mores Dessert Pizza Bagels came to be.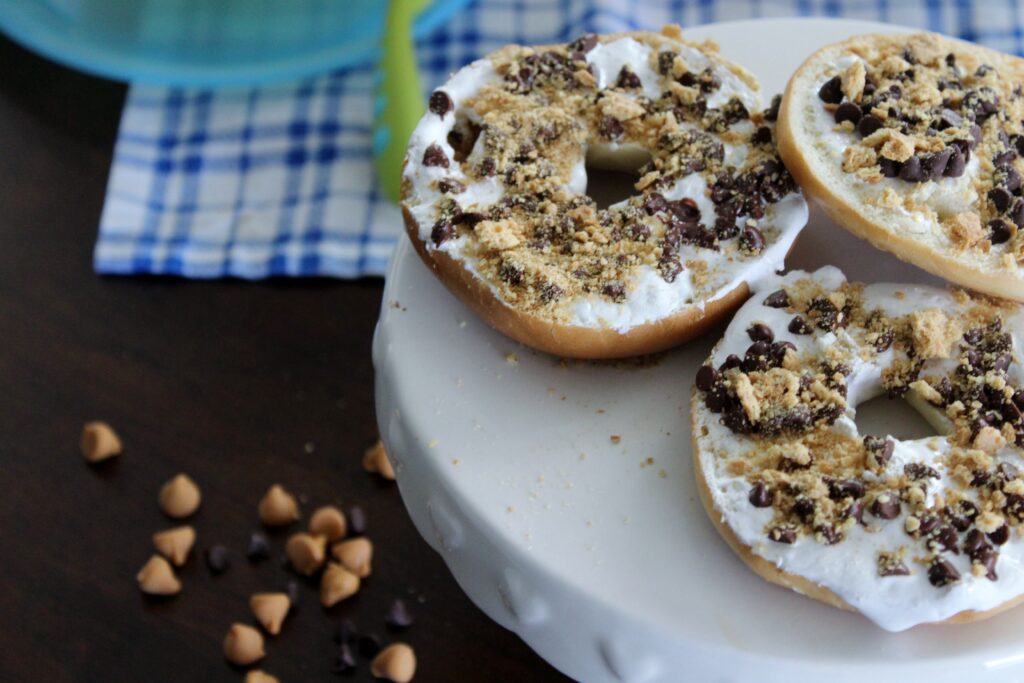 S'MORES DESSERT PIZZA BAGELS
We searched our pantry and had everything to cook up s'mores dessert pizzas. After topping them and popping them in the oven, they were the perfect ooey gooey mess! My son giggled with the marshmallows sticking to his fingers and we kept showing him how to lick them clean. He typically isn't very interested in sweets, but these mini dessert pizzas are the perfect summer treat for kids and such a fun twist on traditional summer s'mores.
S'mores Dessert Pizza Bagels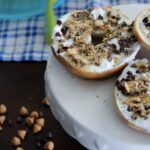 Plain Mini Bagels
Mini Semi-Sweet Chocolate Chips
Marshmallow Creme
Graham Crackers
Preheat oven to 350ºF.

Separate all bagels in half and place on lined baking sheet.

On each half of your bagel, generously smear 1-2 tbsp marshmallow creme.

Sprinkle 1/2 tbsp mini chocolate chips on top of creme.

Return bagels to baking sheet and bake for 8 minutes or until chocolate chips are slightly melted.

Crush graham crackers, sprinkle over dessert bagels and serve.
Tip: Try mixing up flavors by using different types of bagels like blueberry or chocolate chip or by melting down strawberry flavored marshmallows for your creme. Get creative!