This shop has been compensated by Collective Bias, Inc. and its advertiser. All opinions are mine alone. #HallmarkForMom #CollectiveBias
Just your friendly reminder that there are only 11 days until Mother's Day! I know right? Where has this year gone?
As many of you know, my Mom has cancer and lives with full time care to help her stay comfortable. Unfortunately, due to many different circumstances, that home is also across the country from me. Mother's Day is hard when you're long distance, want to hug your Mom and tell her how grateful you are for everything she sacrificed.
I was lucky the past two weeks to have a sweet friend offer to help me talk to my Mom on the phone and this past Sunday we were even able to Facetime which was so special.
My Mom loves flowers and literally sent a card for every single occasion I can think of. I learned the art of a well written personal thank you note and how far that gesture can go.
We decided to make her a paper flower bouquet that would stay with her forever! Here is a quick little DIY tutorial for you to try out at home as well.
I used these as little filler daisy like flowers.
First fold a sheet of construction paper in half short side. Cut 1/4 stripes down towards the seam leaving about an inch.
Continue the entire length of the paper or you can use a paper cutter.
With your hot glue gun and a small wooden dowel, begin adding small drops of glue and rolling your paper.
Once you reach the end of your paper, secure with a few additional drops of glue and let it cool.
Spread open the petals to create your flower. You could also use scissors to curl the petals.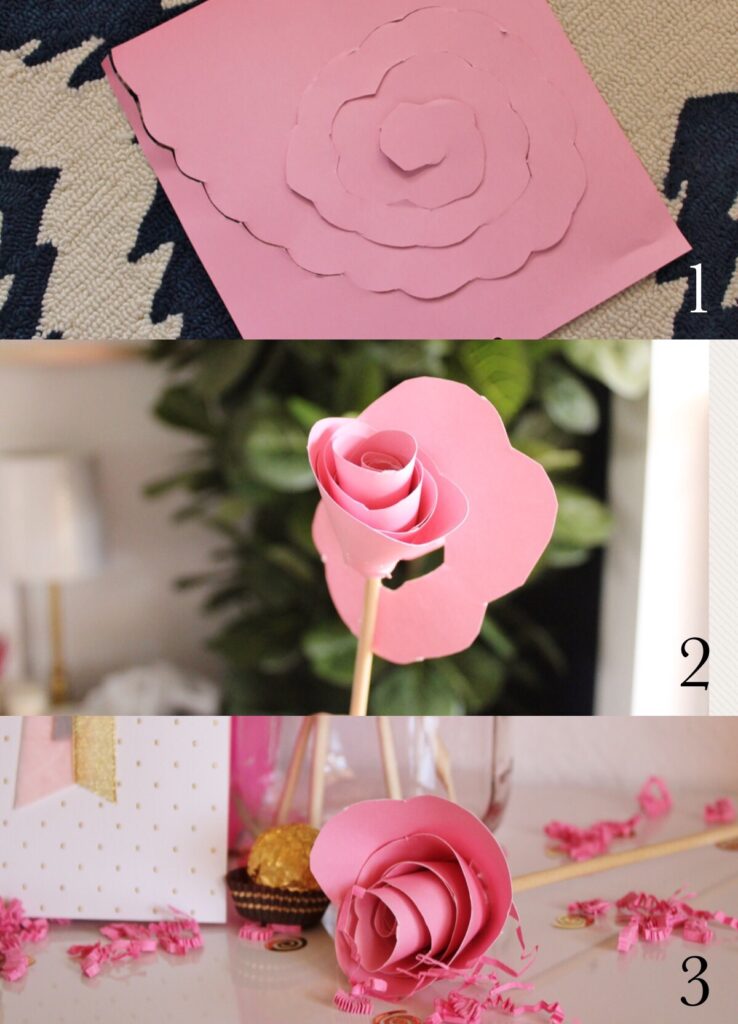 These are my favorites because they look so much like roses and you can make them as big or small as you wish.
Starting at the edge of a piece of construction paper, begin cutting a wave like pattern in a circular form. Don't worry about being perfect because the imperfections actually make it more realistic.
Once your spiral has reached the middle of the paper cut a stripe to rid yourself of the extra scrapes.
Starting at the middle of your spiral, secure your paper to a wooden dowel with a few drops of hot glue.
Continue securing your flower in a circle around the dowel – change height for different dimensions of petals.
Once you reach the end secure with a few added drops of glue and let cool.
Play around with different shapes as you cut your paper and change colors of paper for your bouquet. We shipped a cut out of Ryker's hand as well, along with my Mom's favorite chocolates and her Hallmark card.
Happy Mother's Day!