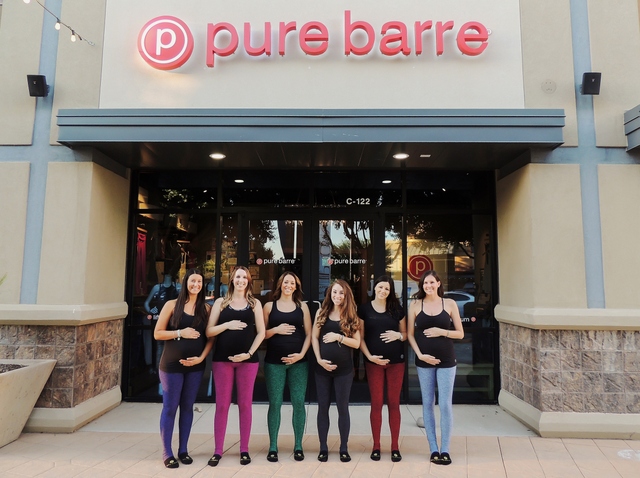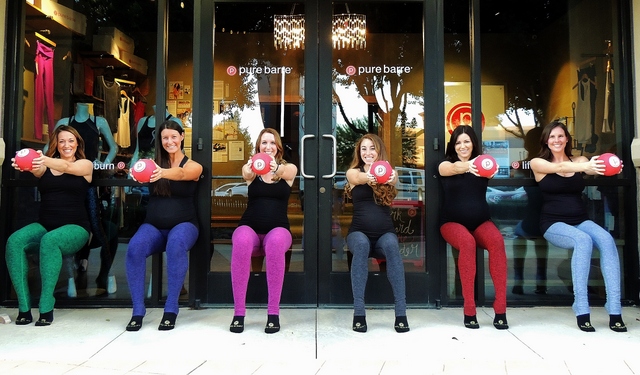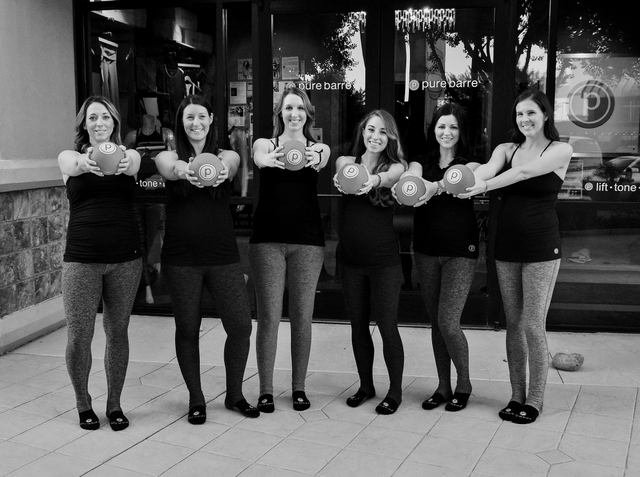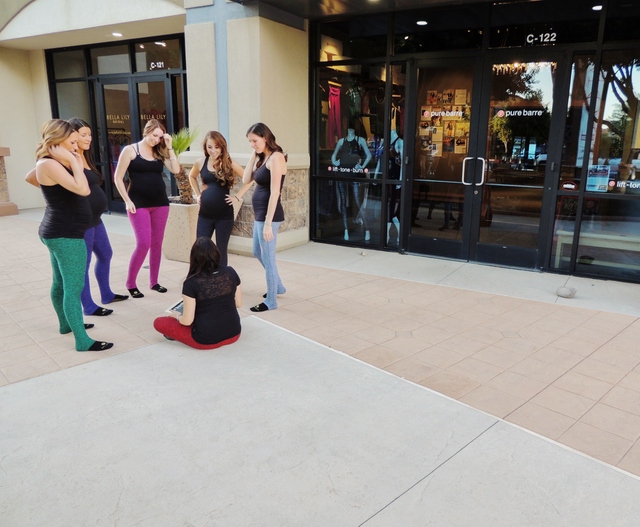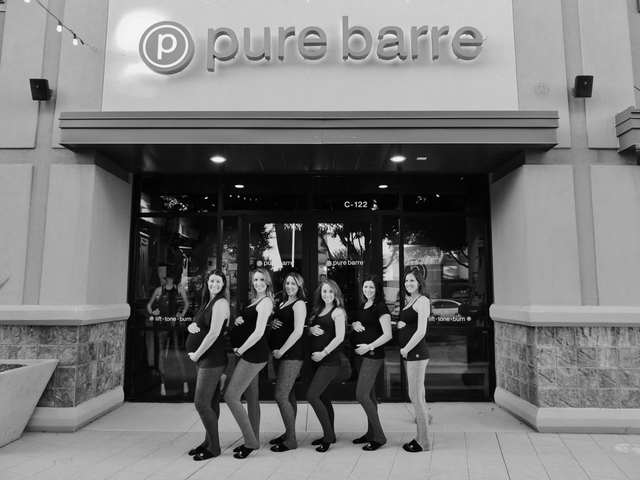 All leggings feature Beyond Yoga Space Dye  – (some are not maternity) and all socks are Pure Barre 'Baby on Board' sticky socks.
There must be something in the water… and no I am not just singing the newest Carrie Underwood song. Pure Barre Glendale has 3 teachers and 5 clients (2 not pictured) pregnant and due within 3 months of each other! These pictures were taken about 7 weeks ago and we have already welcomed our first Pure Barre Baby into the world! I thought I better hop to and post this fun shoot we did to feature our favorite workout and our go-to maternity fitness brand. 
I wanted to break down the nitty gritty about working out pregnant and why we all kept with Pure Barre to stay motivated and safe while tucking for two! I hope you enjoy ?
Special thanks to Pure Barre Glendale, Beyond Yoga, and my dear friends and fellow PB teachers for making this post possible – Lisa 32 weeks, Kourtney 32 weeks, Jenn 31 weeks, Myself – Katie 30 weeks, Tracee 27 weeks, & Mallory 20 weeks!
What is your favorite PB pregnancy modification?
Mallory: Right now, keeping my bottom leg bent in during exercises when it's supposed to be hovering is my favorite. My lower abs were the first thing I noticed a change in while taking class pregnant, so it helped me to alleviate the weird pressure I felt from my growing uterus.  I am sure it will change as the bump continues to grow.
Tracee: I really like the modification for plank. Still engages the core and the whole body but doesn't hurt the low back or growing belly.
Katie: I like the modification for plank because I still feel like I am working hard and not making a huge adjustment to stay with class.
Jenn: Anything abs really… Makes me still feel strong that I can still do it (almost 8 months pregnant) I really do abs with the thought in my head "they (abs) will come back…"
Kourtney: Being able to rest on my elbows during ab work when up against the wall. It gave me so much more control and allowed me to still participate in the ab work throughout my entire pregnancy.
Lisa: I would have to say the ball in warm up. It makes such a big difference and really helps my lower back!
How has PB helped your pregnancy?
Mallory: I know how important exercise is during pregnancy so it's important for me to keep up with my LTB during this time.  I think it's helped keep my weight gain on track and also helps relieve some of the aches and pains that come with pregnancy.  I always feel good after taking class!
Tracee: Pure Barre has helped my pregnancy by keeping me active. It is great to not only feel the physical benefits of Pure Barre, but the mental benefits as well.
Katie: Every time that I take class I feel like I have a renewed energy for the day and then I don't feel as bad when I crave that piece of chocolate after dinner ?
Jenn: It has helped me keep my energy up! Some days you wake up just lagging & not feeling so energized… You take a class & boom you're awake!
Kourtney: Pure Barre has helped me stay toned! I've noticed differences in my chest and arms even while the belly grows ?
Lisa: I feel so thankful for Pure Barre during my pregnancy. It's kept me in decent shape and has helped me stretch out my growing body!
What is your go to maternity workout apparel?
Mallory: Beyond Yoga! I've had to "retire" some of my workout pants during pregnancy, but my Beyond Yoga pants have been perfect for accommodating my growing belly.  Plus, they are super comfortable which is really important to me these days!
Tracee: Beyond Yoga Space Dye or just their 'Beyond the Bump' pant
Katie: The Beyond Yoga maternity leggings have saved my life and made me feel comfy while teaching and working out. I also love anything in black
Jenn: Definitely my beyond yoga leggings (so comfy & soft around the belly) & a nice form fitted tank (to really show off the belly) ?
Kourtney: My go to maternity workout wear was the Beyond Yoga maternity leggings. I loved the full belly panel even early in the pregnancy!
Lisa: I've lived in the Beyond yoga space dye pants this entire time. They are the only pants that seem to work with this growing belly!
Whats the best part of tucking for two?
Mallory: The best part of tucking for two is knowing that I am not just keeping healthy for me anymore. As cliché as it is, knowing you have a little life growing inside you makes you want to take care of yourself for them.  Plus, there's nothing better than feeling a little movement or kick during class – I feel like it's the baby's way of saying "thanks, Mom!"
Tracee: It is one hour a day where I can focus on my own body and what it is capable of. It helps prepare me mentally and physically for childbirth.
Katie: I would say that I love that I am doing something good for my body that will be also be super beneficial when it comes time for labor and it helps keep me focused on staying fit.
Jenn: I would say how powerful I feel! I thought Pure Barre was difficult pre-pregnancy… Now the fact that I can continue LTB'ing throughout my entire pregnancy, the weight gain, & not so fun pregnancy symptoms really makes me feel empowered! I'm pushing myself beyond limits I ever thought I could go.
Kourtney: The best part of tucking for two was feeling him dance to the music during class! It was so fun to feel how active he was during break and following class. It made me feel like I was doing great things for the both of us.
Lisa: Knowing I'm keeping my body toned (as much as it can be) and creating a healthy lifestyle for the two of us!
How many classes a week do you take?
Mallory: At least 3.  More if I am feeling really good. It's all about listening to your body!
Tracee:  3-4
Katie: 3-4
Jenn: 5 in the beginning of the pregnancy now tapering down to 3-4 a week
Kourtney: I was able to attend class 4 days a week up until 30 weeks and 3 classes after that!
Lisa: Before pregnancy I was taking class 5-6 times. Now I take 3-4 times a week.
Does the baby have a favorite song or move?
Mallory: This little one loves "Shake it Off" by Taylor Swift…which I am sure will be embarrassing later in life if this little one is a boy! ?
Tracee: The final two and a half minutes of class get that baby kicking for sure!
Katie: I am a sucker for Queen B and my classes know how much I love Pitbull!
Jenn: Oh baby definitely loves anything Pitbull or a little Bruno Mars… Really gets momma going ? Favorite move; anything with wide legs lol
Kourtney: He was always super active during back dancing so I figure he was dancing along with me!
Lisa: Baby Sienna seems to love when I lay down for back dancing!
How has your bump changed how you teach?
Mallory: I take a few more water breaks during class and definitely find myself getting winded a little quicker these days.  But overall, I am still able to teach as usual since my bump hasn't quite popped yet.  There has been quite a baby boom at Pure Barre Glendale and it's been really fun to share this time with other mamas-to-be and super motivating to see them working out as their bumps grow.  And sometimes I find myself doing a double-take in the mirror if I catch a glimpse of myself – seeing the bump never gets old!
Tracee: Yes! It is challenging to demo without doing the modifications. Thigh stretch has become interesting ?
Katie: At first there wasn't a huge change for me but not that we are almost to D-day it's hard to demo a lot so I have tried to find new ways to motivate clients with my vocals, music, and extra challenges! It's been the best to have so many other mamas at the studio to share this journey with!
*Updated Feb. 2016: All of our babies have been born and are doing well! These mamas and babies are happy, healthy, and tired ? The total is an even 3 boys and 3 girls!