** edited to add: The tan bins are all from Amazon or Target. The pink and white boxes above my purses are from target gift sections, the hangers are from Amazon but Costco is having a killer deal right now (1/23/19)! My label maker and labels are from Amazon as well and we had the Closet Factory do our built ins! They are local to AZ but we went through Costco and got 10% cash back! Check it out 🙂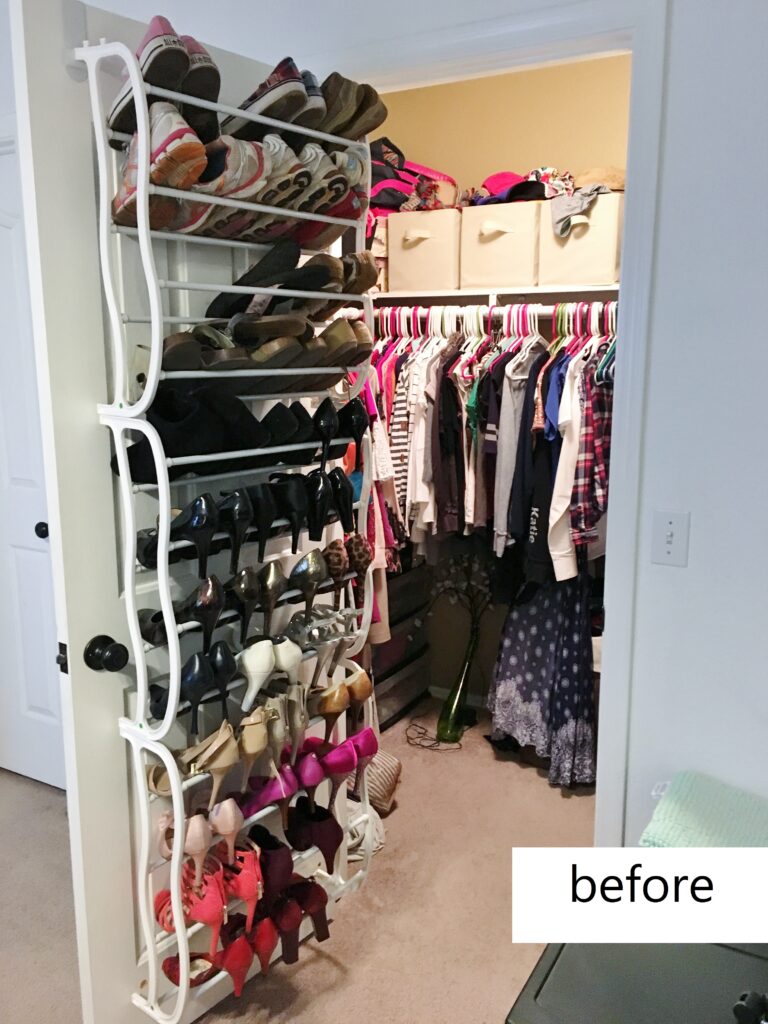 The most asked question I get is probably about our home and how we keep it organized. I am so excited to have finally gotten my thoughts together to share with y'all today.
Let's be 150% honest. My home is not always picture perfect, clean or organized. The room that gets 'loved' on the most is our kitchen and I hate doing dishes. I love to bake but most of the time as soon as I am ready to clean up I get a phone call or the baby wakes up or Ryker is randomly sans clothes. It's always something.
I guess what I am trying to say, is that no one has it all together. See our before image above. No house looks like a magazine 24/7 but what I do want to share is ways that have helped me keep control of the day to day clutter.
Want Better, Not More
For a while this quote was on my letterboard because it really resonates with me. Clothes, friends, food. The saying can start to apply to anything. In November 2017 I read "The Life Changing Magic of Tidying Up" by Marie Kondo. You know the lady all over Netflix now. I had always had a really tidy house but I wanted to simplify EVERYTHING. I was pregnant with Riggins and call it nesting or what you may but I KonMari'd errrrything. I didn't hit hard on my clothes because I was pregnant and things fit weird so I held off on that for a year till I was feeling more like my normal size.
What I did do was start buying less. Less food, less clothes, less toys! I went of the principle that I wanted our home to hold more value. Not necessarily more expensive items, but ones that I cared more about. When you have to work hard for something, you take better care of it; you enjoy it more.
I love Marie's method of keeping things that bring you joy and then I follow my own rule that I don't bring anything into my house unless I really want it. This can take practice but what I love to do is keep a 'wish list' of sorts for each person in our family. If the item stays on for a while then I know we really want it and its not a frivolous purchase. This has worked well for our family the last year and helps when birthdays come along 🙂
Less clothes also means less laundry!
2. Laundry Day
Laundry can be so overwhelming and can also add a lot of stress and clutter to your home. I designated 2 places laundry could be.
-the laundry room
-our bedroom
Now each room does have a hamper but once clothes are clean I don't put piles to fold anyone other than our bedroom. I also do all my laundry on Saturday and Sunday. I would love for everything to be done in one day but realistically it takes me two. I love doing it on the weekend because then come Monday I feel like I am more ready for my week.
Some of my friends like doing a load a day and if that works for you great. The point is find something that does work so you don't dread it or feel like it's never ending. I like going through my week knowing what I need is ready and I also like that Cam helps fold on the weekend with me!!
I am going to speak to folding and hangers. I freaking LOVE matching hangers. I think it makes your closet feel more cohesive and neater. When I take a shirt off the hanger, I place the hanger at the end of my clothes. Cameron does just the opposite and puts it back empty in it spot. This way after we wash that shirt, he knows right where it fits in the line up of his color coding. Different things for different people!
The velvet hangers also take up way less space! Check it out below. Almost all the same dresses pushed together as close as possible but then placed on different hangers.
When it comes to folding. I think it takes more time to fold Marie's way but I love seeing all my clothes and I have found that I wear a larger variety because nothing gets lost in the bottom. Also color coding is life!
3. Make Your Bed
I don't know what it is but if you don't already make your bed everyday – TRY IT! Seriously, every single day as soon as you are awake, get up and make your bed. Try it for 30 days and I promise you will notice a difference in not only how you feel but also in the overall feeling of your room.
Cameron and I wanted our room to be a sanctuary from everything else in our lives. So even if our kitchen was a disaster and we were dead tired, we could come to our room and feel peace. It also really helps with insomnia. When my room is simple and in order, my mind can be as well.
*Speaking of insomnia – I am going to throw in a side note. We keep our computer in our room because we don't have an office space for it but we don't keep a TV in our room. I have had this conversation with so many people and I know several say they themselves or their spouse need the TV on to fall asleep. If so, do you and no judgement from me. Again, just sharing things we have tried to help give you ideas. Since cutting back on media we have noticed a shift in our conversations as a couple and enjoy the change. We have our 2-3 shows we watch together but it has helped prevent us from turning on the tube for the sake of turning it on.
4. No Toys Allowed
I honestly give this rule all the credit for why our bedroom is always the cleanest room. We just don't let our boys toys come in. We can play and goof around with them in our room and they are allowed in there but toys stay out. It keep the space clutter free and was pretty easy to start implementing. Again, just throwing out ideas here 🙂
5. Labels
With a small home, I like to utilize every inch. I found that these square bins fit perfecting in the negative space in our closet above our clothes and I made labels with my label maker to keep everything in its spot. I bought a label maker for $20 on Amazon and grabbed a few different colors of tape. In our closet I used clear with gold writing because it's not too bold and matches the colors we already use in our room.
The bins contain things like swimsuits, hats, belts, ballet clothes, and winter accessories. These are items we don't use daily or just need seasonally so it's fine that they are up high.
I am 5'2 so I also keep a step stool hidden in my closet 😉
6. Storage
We have a relatively small home with 3 bedroom/2 baths. To make better use of our space we store items under our bed. Cameron built our bed frame and it is pretty high off the ground so we have a good amount of space to keep things. Currently, I store maternity clothes, an empty bin, scrapbook supplies and my suitcase under my side of the bed. Cameron keeps hunting items and travel bag on his side.
I bought some cheap removable labels for my bins because what I store my change but I like labels so it's quick to assess what is where.
7. A Place For Everything
One thing I loved about the KonMari method was that everything should have a home. From your keys to your wallets and purses. When you know exactly where something should be it makes it a heck of a lot easier to clean up your space.
Above I keep my go to diaper bag, purse and work bag. I also noticed Cameron had little items that he would keep in his pockets so I placed a small gold bowl as a catch all for his keys, chapstick and wallet.
I also really love the idea of having your catchall and purse storage when you walk into your home but right now our house doesn't have the space there so we made our home work for how we live.
I think that is one of the most important things I have learned is loving the home you are in. It's fun to dream up big perfect houses where and how you would store items ideally, but until that's a reality we have to find ways to love the space and things we have and make them work for our how we live.
I hope you enjoyed the first post in my organization series. Let me know what space you are looking forward to seeing next!!