This shop has been compensated by Collective Bias, Inc. and its advertiser. All opinions are mine alone. #FortunaForAll #CollectiveBias #cbias
Our second Baby Boy is due in just a few weeks and that means some major nesting is going on in our home. I have had the urge to organize and re-organize every single nook and cranny of my house to get everything perfect for his arrival. One space that often gets overlooked in our home is our dog's space. I like to lovingly refer to this as our 'Doggie Command Station'. This area houses their food + everything they need for easy access to keep them happy and healthy.
Today I am sharing 3 ways to spruce up this area and make it easier to access. Accessibility helps ensure that we spend more time playing and loving on Duke and Lulu – WIN WIN for everyone!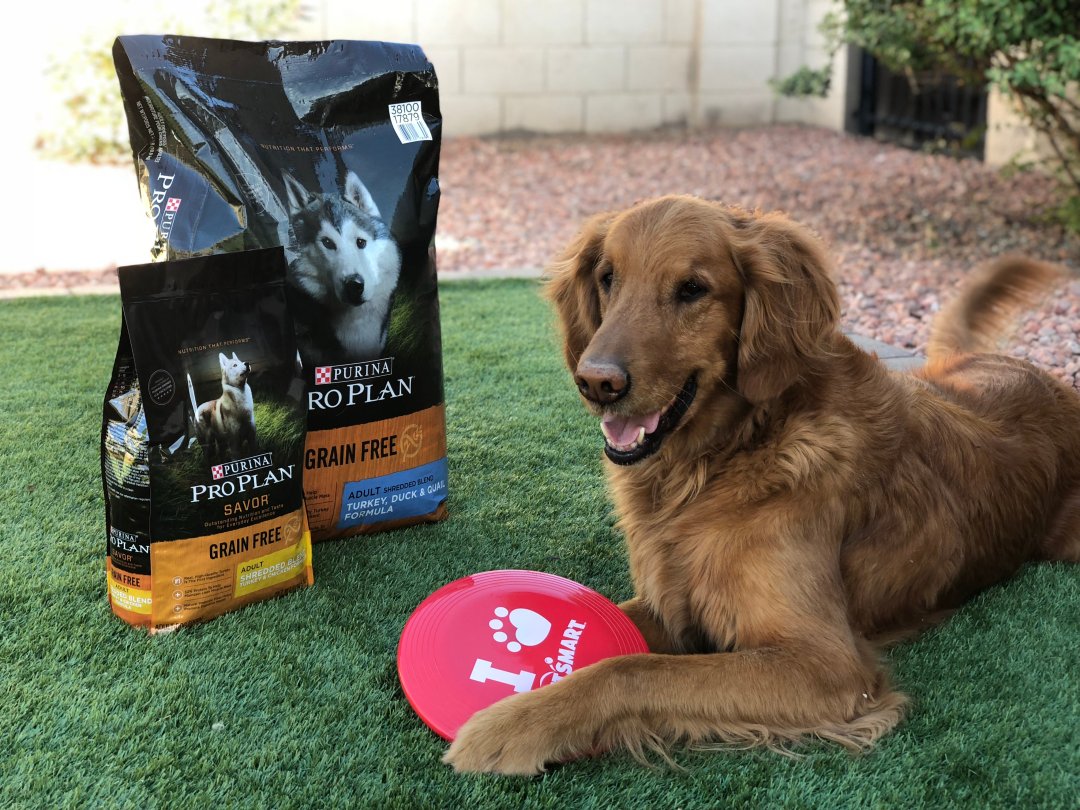 Interested in making your own Doggie Command Station? Hover over the photo above to click through to PetSmart and shop these products!
3 Ways to Spruce Up Your Doggie Command Station
Stock Up! One of my number one tips before having a baby is stock up on all the essentials and this means dog food too! We love to shop at PetSmart for all our pet needs because they have everything we need all in one place. We actually did all of Duke's behavioral puppy training at PetSmart years ago!!!The most important consideration for us when choosing our dog's food is that it is grain free. So, we like to stock up on Purina® Pro Plan Grain Free Shredded Blend Turkey, Duck, and Quail. Over the years, we have found that both Duke and Lulu are more active and have more energy on a grain free diet, so this is important to our family. We also like to mix in the Purina® Pro Plan Savor Shredded Blend Grain Free Turkey and Chicken. The Pro Plan helps promote joint health and mobility through natural sources of glucosamine!
Make it Personal! I love adding little touches to help something plain and ordinary feel more like it fits with my personal style and matches my home. I purchased a new food grade safe container to store our dog's food and then added this vinyl decal for a little extra love. Little details help make a space feel more inviting and plus I love labeling everything!

New Toys! We like to keep a stash of dog friendly toys in a basket in our family room. This dramatically helps cut down on behavioral issues and helps both Duke and Lulu know what is for them to play with and chew on. We purchased all our toys at PetSmart while grabbing their dog food. We like shopping at PetSmart for the amazing rebate offers as well. Now through May 31, 2018 If you spend $20 on Purina products you can upload your receipt for a $5 PetSmart gift card. You can also register to receive an entry in the Grand Prize Sweepstakes!
Prizes Include:
2 Grand Prizes:

1 Dreams of Fortune Cat Bed – AVR: $2,145
1 Dreams of Fortune Dog Bed – AVR: $2,145
Instant Win Game Prizes:
Purina Branded Tarot Cards (50 total) – ARV: $25/ea
$50 PetSmart Gift Card (15 total) – ARV: $50.00/ea
$25 PetSmart Gift Card (15 total) – ARV: $25.00/ea
$10 PetSmart Gift Card (25 total) – ARV: $10.00/ea
*No purchase necessary to win.
If you are looking for more information on the program and access to PurinaFortunes.com take some time to explore around!  On the Instant Win site you can also have some fun by Playing the Paws of Fate game at PurinaFortunes.com to instantly win prizes such as PetSmart gift cards, as well as Save a Fortune tarot cards!

Purina was kind of enough to gift us a Paws of Fate box filled with some fun goodies and treats for Duke and Lulu. I'm not sure Lulu is ready for her paw reading yet but she sure loved her new chew toy!